One of my favorite foodie events is just around the corner! Savor Fort Wayne runs from January 11th through the 22nd and features twelve delicious days of menu deals at participating Fort Wayne restaurants. Visiting Fort Wayne during Savor Fort Wayne provides guests with an opportunity to try a variety of restaurants inexpensively. Each restaurant offers a special multi-course meal at a discounted price not available at any other time of the year.
This year, over thirty-five restaurants are participating, You may view the full list of restaurants and menus on our Savor Fort Wayne page. 
Here are a few of my favorites:
The best sushi in town, in my opinion. The menu for Savor Fort Wayne features an assortment of sushi rolls and maki for the starter course; several teriyaki, tempura and katsu options for entrees; and ice cream for dessert—all for just $30 for two people.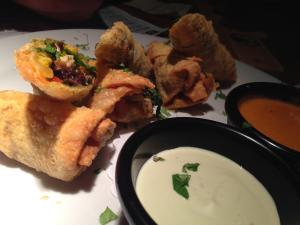 One of Fort Wayne's newer culinary rock stars, Black Canyon is offering a special $30 per person menu during Savor Fort Wayne. Starters include your choice of Bao Steamed Buns or Tex-Mex Eggrolls (my favorite item on their menu). Salad options include Caeser or House. The entrees line up is outstanding: Roasted Chicken, Creole BBQ Shrimp, Salmon or Back Ribs. And save room for dessert! Choices are Beeramisu or NY Cheesecake. Yum!
I featured this restaurant earlier this year in "Restaurants Worth Traveling For," so seeing it included in Savor Fort Wayne is exciting.  For $30 per person, you get the following: starters include chicken liver toast, garlic potato soup, or crispy chicken wings. The chicken wings are my favorite! Entrée choices include McGolden, Wild Mushroom Risotto, Braised Pork Ragu, and Chicken and Waffles. The McGolden is the restaurant's take on the Big Mac, but this burger puts that to shame. It features two beef patties, beer cheese, dijonnaise, honey bun and fries, served with homemade ketchup.
This is another restaurant featured in Restaurants Worth Traveling For. Its Savor Fort Wayne menu includes the following for $30 per person: Oyster Mushroom Salad, Spinach Salad, or Carmelized Onion soup for starters; Gnocchi, ¼ Chicken, or Shrimp & Scallops for the main course; and Lemon Meringue Tart or Donut party for dessert. Donut party alone should be enough to lure you in - fresh donut with anise, pear, and caramel ice cream.
After you've savored some of Fort Wayne's great restaurants, enjoy a night out to some of the events that are offering special deals! Consider being dazzled by the Philharmonic's performance - Mozart and Tchaikovsky or their Pops Series - Rock On!