Visit SavorFortWayne.com for the latest info on the current year's program.
Attention foodies: Savor Fort Wayne is coming back this January to help you beat the winter blues! 2016 will be bigger and better than ever with more than 30 restaurants participating. Each eatery is offering a special multi-course meal at a discounted price you can't get any other time of year. But the offers only last for 12 flavorful days, January 13 through 24.
Take your taste buds on a world tour with cuisine from several different countries. Both Asakusa locations have tasty sushi. El Azteca and Bandidos have multiple choices if your tastes tend to run south of the border. Keep going south, where you'll find a jungle of favorites from folks at Tucanos Brazillian Grill. Jump across the pond to Ireland with traditional grub at J.K. O'Donnell's. Then, it's a short trip to Italy for favorites from Toscani, Biaggi's and Casa restaurants. New this year, try some extra exotic Ethiopian options at Queen of Sheba.
Update: Toscani is Permanently Closed.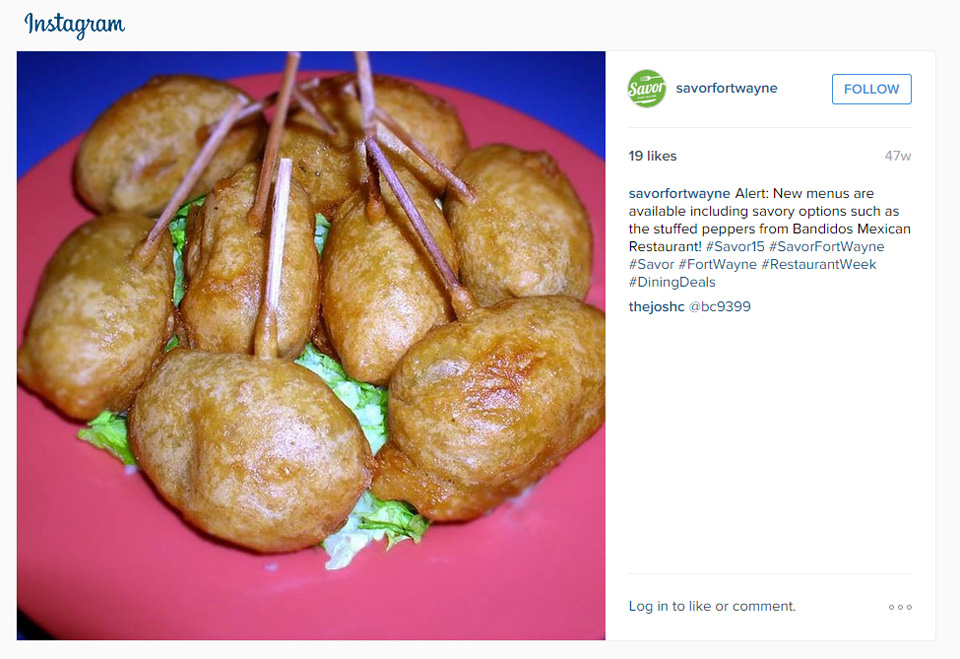 If you're looking for more traditional fare, you can find that as well. Other local favorites include Shigs In Pit Barbeque, Mad Anthony Brewing Company, Don Hall's Factory, Gas House, Guesthouse, Takaoka, Tavern at Coventry, and Triangle Park. Or take a trip to Red River Steakhouse. There are even more great options from Club Soda, Eddie Merlot's, the Oyster Bar, and more!
Are you salivating yet? Be sure to check out our Savor Fort Wayne site and each restaurant's special Savor menu details. You'll also want to visit the site to find out more about the Diner of the Day contest on social media; and you can enter to win a chance for free airfare for two to Philadelphia, just by voting for your favorite server.