Visit SavorFortWayne.com for the latest info on the current year's program.
Savor Fort Wayne is a foodie's dream come true, and it's back again this year! With over 25 different eateries participating in the 12 days of deals, this year is sure to be better than ever! This year's event kicks off on January 14 and spans through to January 25. As part of the fun, each participating restaurant will offer a special three-course meal at a discounted price you can't beat! And there is a little something for every taste palette.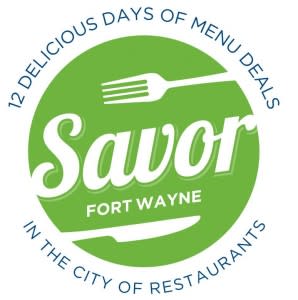 Craving Mexican? Hit up one of Fort Wayne's best spots, El Azteca. Thinking about getting some sushi? Try either of Asakusa's locations in town for great food and a great atmosphere. Or if traditional food is more your speed, head to any one of the Hall's restaurants, Guesthouse, Gashouse, The Factory, The Tavern, or Triangle Park. There are even some great Italian options, as well like  Casa and Toscani's. 2017 Update: Toscani is Permanently Closed.
If you need gluten free or vegetarian dining options, Savor Fort Wayne has you covered, too! Try Red River Steak House or JK O'Donnell's for gluten free options, and hit up Eddie Merlot's or Bandido's for vegetarian meals. For a full list of all the participants and their menus, check out Savor Fort Wayne's webpage. Check their Facebook page as well as Visit Fort Wayne's for updates about the event! Join in the action , and let us know about your Savor Fort Wayne experience by using #SavorFW.