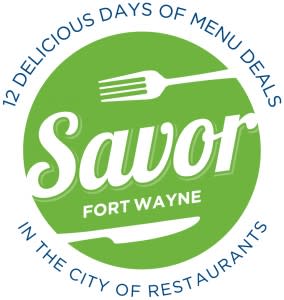 Are you a foodie, or someone who just appreciates a delicious tasting meal? Have you been wanting to get out and explore some of the great dining options Fort Wayne has to offer? We may have something for you! We are excited to introduce Savor Fort Wayne! January 15-26 will start what will hopefully be a new tradition and celebration for food lovers in the Summit City. Savor Fort Wayne will be a 12-day celebration in the City of Restaurants, where you can visit some of our finest restaurants and enjoy special value-priced menus!
Participating restaurants will offer $30 menus during this time, offering a special taste of the city that may not be available throughout the rest of the year. These special menus can include whatever the restaurant wants and will range from 3-course meals, to 2 for $30 specials! Savor Fort Wayne is being presented by area restaurants with support from Visit Fort Wayne, as well as the Indiana Restaurant and Lodging Association. In its inaugural year, organizers anticipate 20 participating restaurants featuring steaks, sandwiches, seafood, salads and much more. Some menus will also include vegan, vegetarian and gluten free options. The list of participating restaurants is growing each day! Restaurants already on board include: Asakusa, JK O'Donnell's, Mad Anthony Brewing Co., Halls Gas House, Casa! Ristorante, Paula's on Main - and more!
Visit www.SavorFortWayne.com to view the list of participating restaurants, menus, reservation requirements, and start making your plans to Savor Fort Wayne! You can also follow Savor Fort Wayne on Facebook, Twitter and Instagram! Stay up to date on new restaurants and developments, and check back here, on the Fort Wayne Insider, for more information as it becomes available! We look forward to savoring Fort Wayne with you!