If you're looking for a relaxing dining experience, you'll find that – and more –  at Cork 'N Cleaver!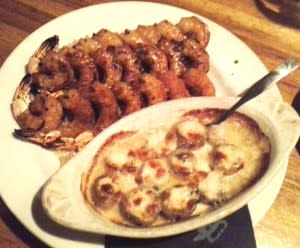 Cork 'N Cleaver is best known for its award winning salad bar and variety of seafood.  True to its word, all salad essentials were fresh and well-maintained at the salad bar; there were even after dinner mints at the bar, which I thought was a fun touch.  The menu here boasts nearly everything you could desire, ranging from shrimp and salmon appetizers and entrées to more complex dishes, such as Alaskan King Crab and Coldwater Lobster Tail. 
One dish that caught my eye was the Coffee Crusted Filet, which sounds intriguing to me because I'm a coffee lover! If you don't care much for seafood, not to worry; Cork 'N Cleaver has other meat options for you.  Hawaiian Chicken, chicken kabobs and steak choices are available.  I selected the pork chop dinner with a baked potato.  My meal was delicious, but I ended up taking home most of the large portion, because I had filled myself up with the salad bar.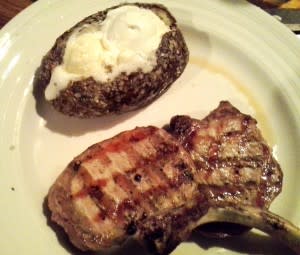 The food is great, the staff is very friendly and efficient, and the restaurant building itself has character that should be noted.   
As the restaurant's motto states here, Cork 'N Cleaver's décor is "thoughtfully planned to create the most comfortable, warm atmosphere one could find outside the home."  They mean this literally, because I was seated in front of the fireplace in one of the dimly-lit but cozy dining rooms.  This earns the restaurant extra points in my book, because it perked me up on a cold, winter night. Guests of all ages are welcome at Cork 'N Cleaver.  It really is the place to be!
Cork 'N Cleaver is located at 221 E. Washington Center Road, and can be reached at 260-484-7772. You can also find the restaurant online here and on Facebook here. Reservations are suggested, especially at dinner time and during the weekend.
Dining hours are: lunch:  Monday – Friday, from 11:00 a.m. – 2:00 p.m., dinner:  Monday – Thursday, 5:00-10:00 p.m.; Friday, 5:00-11:00 p.m.; Saturday, 4:00-11:00 p.m.; Sunday, 4:00-9:00 p.m.