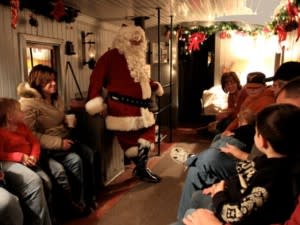 Riding on the Santa Train at the Fort Wayne Railroad Historical Society is a truly unique holiday experience in Fort Wayne. The all-volunteer, non-profit organization restores the breath-taking beauties of railroad past. The crown jewel in their collection is the massive, goose-bump inducing Engine No. 765. They've lovingly restored the steam locomotive back to working condition and now use it on their sold-out expeditions. In addition to the engine, the society has restored train cars and cabooses. The eye-catching red cabooses from the early 1900's are the center of activity during the holidays. Santa rides along in the caboose decorated for the holidays for the twenty minute ride. Make sure to bring your Christmas list so you can tell him exactly what you want for Christmas.
Bring your camera, too, to get some great family pictures. As you ride along the tracks, checking out the equipment aboard and peering out the windows at the countryside you can't help but imagine what life would have been like for the railroad men who lived and worked on the caboose one hundred years ago. After your caboose ride, feel free to tour Engine No.  765. Believe me, you will be in awe of its size and power and the hard work and engineering evident in its creation, restoration, and maintenance. You may also tour the ongoing restoration projects, look at railroad antiques, talk to the volunteers with the Society, and learn more about railroad history and safety. Souvenirs are available for purchase, and Bravas food truck will be out offering goodies, as well.
The Santa Train departs every twenty minutes from the Fort Wayne Railroad Historical Society restoration facility located at 15808 Edgerton Road, New Haven, Indiana. Tickets are $4 for adults and $3 for children and may be purchased at the door. The event runs from 10am to 4pm, and you have one more Saturday left to catch the train: this Saturday, December 21st! For more information visit them at their website or call at (260) 493-0765. You can also find out more information at Visit Fort Wayne!