Christmas is forever, not for just one day, for loving, sharing, giving, are not to put away like bells and lights and tinsel, in some box upon a shelf. The good you do for others is good you do yourself. ~Norman Wesley Brooks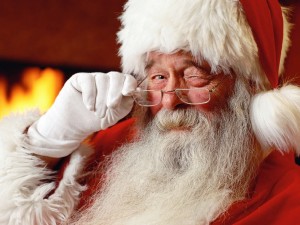 Look out kids, Santa is coming to Fort Wayne! Don't miss this opportunity to let him know everything on your wish list this year. How cool would it be to say that YOU had breakfast with SANTA!? Now you can! Here is when you can meet with him:
Breakfast with Santa 2012 at the Embassy Theatre's Festival of Trees
Friday, November 23, 9:30 – 11 am
Cost: $12.50
Call 424-5665
In case you can't make that great event, Santa will still be around! Here's a few more places where you can spot him:
The History Center's Festival of Gingerbread
Saturday, December 1, 1 – 3 pm Cost: Regular Museum Admission
Adults (ages 19-58) - $5
Seniors (age 59+) & Students (ages 3-18) $3
Children age 2 and under - Free
History Center Members - Free
Call 426-2882
Salomon Farm's Christmas on the Farm
Saturday, December 1, 6 – 9 pm
Cost: Free but donations are appreciated
Call 427-6008
Botanical Conservatory
Santa and the Reindeer
Saturdays before Christmas
December 1, 8, 15, and 22, 2012, 12 - 4 pm
Cost: Regular Conservatory Admission
Adults $5
Children (ages 3-17) $3,  Age 2 and Under FREE
Call 427-6440
Glenbrook Square Mall
Nov 17 – Dec 24
Santa arrives in the Macy's court on Nov 17 at 9 am
Santa's Landing Toy drive benefiting Toys for Tots
Thursday November 29th 5-7pm
Santa will be at the Smith field Airport 902 W. Ludwig Rd. Fort Wayne IN
Admission: One new, unwrapped toy donation for toys for tots.
Botanical Conservatory
Saturday, December 8, 9-10
Cost: $11
Call 427-6440
Fort Wayne Children's Zoo
Sunday, December 16, 8:30 and 10:30 am
Cost: $15 children; $10 adults
Call 427-6800
Bob Evans at Jefferson Pointe
Saturday, December 8, 8 – 11 am
Cost: $price of meal
Call 432-5545
Let us know if you know of any other sightings, and make plans today to get in one more wish with the Big Guy!