As friendly as the Fort Wayne International Airport has been, it has recently been made more welcoming with the opening of the Sam Adams Brewhouse and Seattle's Best Coffee.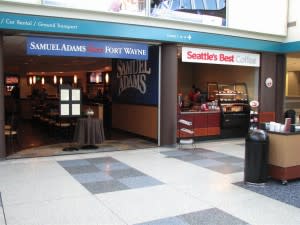 The new restaurant and coffee shop are located side by side on the main floor of the terminal, straddling the Transportation Security Administration's security checkpoint. They are part of what is referred to as the Airport Marketplace. This includes the restaurant, gift shop, and coffee shop. Marketplace hours are 5:00 a.m. until the last flight of the day departs.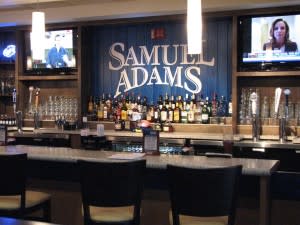 Samuel Adams Brewhouse gives travelers a quality dining experience with burgers, wings, salads and dinner entrees. There is even a quick packaged snack available in case you literally have to dash to catch your flight. Seattle's Best Coffee is a dream come true for coffee lovers. They serve brewed coffee and espresso beverages, teas, and light snacks. It was really nice having a comfortable place to hang out when the flight for my eldest daughter who lives in Indonesia was delayed last Christmas. She loves flavored coffee and frequented Seattle's Best Coffee before leaving. Her dad and I lingered over a meal while waiting with her. As long-time regular passengers at FWA, we appreciated this option for casual dining. We consider Samuel Adams Brewhouse and Seattle's Best Coffee welcome additions to FWA's services and accommodations. For information about Fort Wayne International airport you can visit them online.