The Fort Wayne Dance Collective presents RUBBERBANDance Group, a tribe of five dancers who move like spiders and spend as much time on all fours and upside-down as they do vertically. The dance group uses their legs like arms, their feet like hands. They do not dance with rubber bands but rather like them, unpredictable and flexible.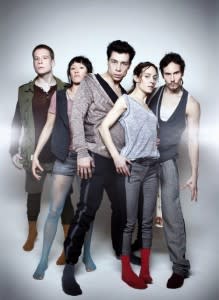 They will be performing a piece called "Gravity of Center" which will be a combination of the narrative, the spectacular, and the freedom of break dancing with the abstraction, nuances, and technique of contemporary dance. The result is a true hybrid of dance forms.
With a thrilling, seamless blend of hip-hop, ballet and modern dance, audience members of all ages will surely be amazed by the RUBBERBANDance Group!
The group will perform on Saturday, April 14 8:00pm.
Advance tickets: Adults - $22 Students $20
At the Door: Adults - $27 Students - $25
Special Discounts: Groups of 10 or larger - $18
Fort Wayne Dance Collective Arts United Center 437 E. Berry St. Fort Wayne, IN 46802 260-424-6574