"Welcome USA Roller Sports." This is a phrase I have become quite familiar with because for the past 65 days, a major part of my life has been spent working on the promotional campaign for this year's USA Roller Sports Speed and Figure Skating National Championships. At last, the first rounds of competitions are underway at the Allen County War Memorial Coliseum!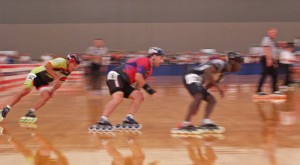 For the next two-and-a-half weeks, Fort Wayne will be crawling with skaters who want to see the Zoo, a TinCaps game, the Botanical Conservatory and all of the great sights our city has to offer. But this group provides athletic entertainment of it's own for Fort Wayne residents and visitors. Several Olympic skaters, such as Gold Medalist Apolo Ohno, got their start in speed skating on hard wood floors with USA Roller Sports before making a switch to the ice. And this week, you can see an Ohno-in-the-making when you take a trip over to Fort Wayne's Memorial Coliseum! Soak up an afternoon of speed skating relays and long distance races as well as novice races of all lengths. And, Sunday, July 23 marks the start of the Figure Skating National Championships. Skaters of all ages will compete in dancing, free skating and long and short programs as soloists and teams. USA Roller Sports National Championships is your chance to get the feel of Olympic competition without having to travel halfway around the world. Don't miss your opportunity to be a part of the action! Click
here
to learn more about the races, figure skating contests and scheduling for the various events.