What is it?
Riverpalooza, in its second year in Fort Wayne, is a free festival with live music, food trucks, and the piece de resistance…dragon boat races.  Last year kicked off the first ever Riverpalooza with 25 teams competing. 
When?
June 25, 2016, from 9 a.m. – 4 p.m. with the first races starting at 9 a.m.
Who?
The fest is hosted by the Mayors Youth Engagement Council. 
Where?
The race starts in Headwaters Park West on the St. Mary's River; spectators can cheer on teams near Fort Wayne Outfitters and Bike Depot on Cass Street.  
Why?
Hey, why not?  Doesn't it just sound like fun?  
The main reason for the event is fundraising for local charities (last year over $10,000 was raised), but just as important, are people coming together to celebrate downtown Fort Wayne.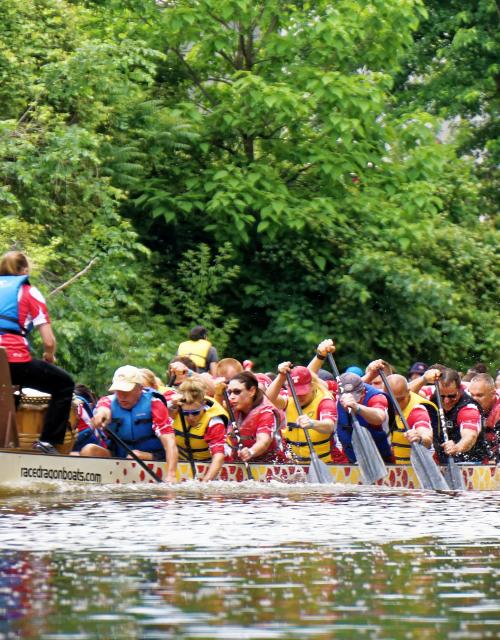 The Boats:  These long boats are often ornately painted and feature a dragon head and tail on each end.  During racing, each boat has a team of 20 rowers , one person to steer, and one drummer who keeps the beat for the rowers.
History about the event: Although Fort Wayne is only in its second year of dragon boat racing, it's nothing new in larger cities around the country.  Chicago, Philadelphia, and New York have all hosted the races, some for more than a decade.
The legend: The idea of dragon boat racing comes from a 2000-year-old Chinese story involving  statesman and poet, Qu Yuan. According to Riverpalooza,
According to legend, after being cast into exile due to a disagreement with the king, Qu Yuan threw himself in and drowned in the Miluo River. While he was drowning, local fisherman frantically attempted to rescue him by racing to the scene in their traditional long boats. While en route to Qu Yuan, the fishermen beat drums and splashed their paddles into the water. This was an attempt to scare dangerous fish and water dragons away from his body. Additionally, bags of rice were thrown into the river as well. It was believed that the rice would nourish Qu Yuan's weakened spirit.
The races re-create the attempt to save Qu Yuan.  Before the race begins, an artist paints the eyes of the dragons in order to awaken the dragon.
Making the team:  I'll be competing in the race on the Ivy Tech team, which will combine staff and students on the boat.  Apparently no racing experience is needed and all fitness levels are welcome.  So…yah, I made the team!  I wonder, though, if I can score the job of drummer instead of a rower.  I may not have much rhythm, but I've got more of it than stamina!
Be there! Come out on June 25th and cheer on the teams and celebrate Riverpalooza.