Ringing in the new year doesn't have to mean the bar scene or parties. Instead, why not consider a family-friendly activity? Science Central will welcome guests Dec. 31 from 10 a.m. to noon to  celebrate the 13th annual "Countdown to Noon." The event will feature a variety of activity tables and science demonstrations, all focused on traditional New Year's Eve activities. Children's activities will include making party hats, noisemakers, and face painting. On hand to assist with activities will be the reigning Miss 3 Rivers Festival, Miss 3 Rivers Festival Teen, and the 3 Rivers Festival Tiara Princess.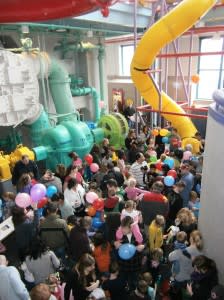 As the noon hour approaches, visitors will enjoy a brief soda pop toast, and the assembled crowd will countdown the seconds till noon with Science Central's Executive Director Martin S. Fisher. The festivities will culminate with the annual balloon drop, with over 1,000 Lake City Bank balloons cascading down from the Science Central ceiling. This event is more affordable than the average night on the town, too. Admission is $8 per person, ages 3 to adult. Science Central will be open from 10 am to 5 pm on December 31.
Science Central
 is a regional resource that provides inspiring and fun hands-on science education for people of all ages. Through more than 120 exhibits, school tours, distance learning programs, and weekend events, they bring the fun of science to more than 130,000 children and adults, annually. Normal hours are: Wed.-Fri., 10 am to 4 pm, Saturday 10 am to 5 pm, and Sunday noon to 5 pm.