If you want to ride the Rivergreenway but don't have a bicycle, or if you want to cruise the many waterways in the area but don't own a kayak or canoe, don't worry. Fort Wayne Outfitters offers hourly, half day and full day bicycle and boat rentals for individuals and for families.
Located in the Historic Cass Street Depot and situated on the St. Mary's River and the Rivergreenway, Fort Wayne Outfitters was opened in 2007 by avid bicyclist, Tim Hall, who regularly competes in off road cycling. Hall opened Fort Wayne Outfitters because he always thought having a bike shop on the Rivergreenway would be a great concept. He also likes water sports, so he decided to not only rent and sell bikes, but also to rent and sell kayaks, tandems, and canoes. New to Fort Wayne Outfitters and Bike Depot is a Cyclocross course open every Wednesday at 5:30 p.m. for clinic and practice races. The course is outfitted with a sand pit, stairs, barriers, and grass areas. This is a fun, fast-paced course that offers visitors a glimpse of the fastest growing segment of cycling.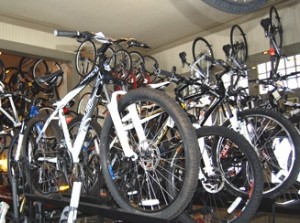 Fort Wayne Outfitters and Bike Depot carries road, mountain, hybrid, cruiser and cyclocross bikes, and a wide array of outdoor and fitness apparel as well as footwear. The store also carries compression apparel by 2XU and a wide range of kayaks and canoes for sale from entry level to those for the more experienced boater. Visitors will also find a full service bike repair shop. Fort Wayne Outfitters and Bike Depot is located at 1004 Cass St. just off Wells St. Hours are 10 a.m. – 6 p.m. Sunday to Tuesday, and 10 a.m. – 8 p.m. Wednesday through Saturday. For more information, check them out
online
 or call (260) 420-3962.