Wow! Writing about Downton Abbey is so much fun after seeing Season 3 in its entirety yesterday on PBS! Yes, 10 hours. I don't care that it took the whole day. What, you're not a Downton Abbey fan? You've never heard of the PBS phenomenon that has taken the world by storm? Let me explain what the fuss is about, and then suggest ways you can celebrate your own Downton Abbey Week right here in Fort Wayne.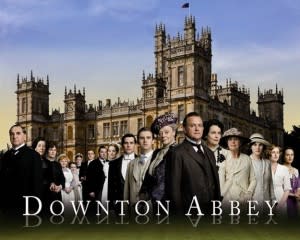 Downton Abbey is the name of a fictional mansion in the countryside of England. Season 1 opens in 1912 when news of the sinking of the Titanic reaches the titled Crawley family who live in Downton Abbey. The heir for the estate has apparently drowned on the Titanic and the search is on to install a new heir. Season 2 opens during World War I. Spoiler alert! The Crawleys are not immune to the effects of the Spanish flu epidemic that swept the world, or the primitive medical practices of a century ago. Another spoiler alert! Season 3 is a real tear-jerker! OK, that's all I'll say, except you must see this show if you appreciate historical drama, great acting, beautiful gowns and fantastic story lines. Now that I've whetted your appetite to watch Downton Abbey here are some ideas to establish your own Downton Abbey celebration. First, check out the full-color books written by Jessica Fellowes from Allen County Public Library—The Chronicles of Downton Abbey and The World of Downton Abbey. I've read them and highly recommend them. They are full of photos of characters from the show and Fellowes' insights into life from that time period are interesting. Julian Fellowes created and has written all of the Downton Abbey episodes. (You can also rent the DVDs here, if need be, and there is also a Downton Abbey cookbook so you could cook your own cranberry scones like Mrs. Patmore for high tea!) Next, shop for elegant dinner clothing as might be worn by the Crawley women at local
thrift shops
. Remember to pick up some LONG necklaces which Mary seemed to wear for every occasion. Third, lunch with a friend at
Sweet Violets Tea and Antiques
at 503 W. Wayne Street in downtown Fort Wayne. If you've watched the show, discuss which is better – Mrs. Patmore's Christmas pudding or lemon curd. (By the way, when the show's characters ask for biscuits with tea, they're asking for cookies, not the biscuits that Americans typically eat with gravy. A visit to
The History Center
will reveal the painful method of producing waves in women's hair from a cen)tury ago. Edith Crawley must have endured much pain from these heated items when prepping her hair! Time your Downton Abbey experience so it corresponds to when the tulips are blooming at
Foster Park
. The Crawleys are often pictured strolling through their spacious grounds around the castle. If you're daring, wear your attire while doing so and see how many looks you get! Can you think of other ways in Fort Wayne to celebrate the British way of life from 100 years ago? Please share!