Experience winter and daily life with the French of the Fort Miamis. Here civilians, local native Americans, French military members and others will recreate an unique experience life at the Historic Old Fort on the frontier. The fort and the frontier are right here in Fort Wayne, Indiana at the Nouvelle Annee: A French Garrison 1753.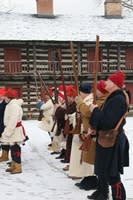 This fun, annual event takes place Saturday, January 26 this year and is free and open to the public.
It may be January and many people are in their own hibernation, but at the Old Fort frontier families and tradesmen are hard at work. View cooking and sewing demonstrations among the live events at this year's event. Experience mail call, drilling and folks scouting the area as well. Learn about life and culture in a time very different than today. This event is perfect for children and families too. Just bundle up!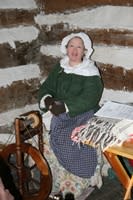 Nouvelle Annee: A French Garrison 1753 is from 10 a.m. to 5 p.m. The event is free but a donation is encouraged to help support the Old Fort and future events on site. For additional information call 260.437.2836 or visit the Old Fort online. The Old Fort is part of a not-for-profit organization and run completely by volunteers. The fort is open for tours and special events and is a replica of an American fort built in Fort Wayne circa 1815 to 1816.