Whenever a business closes - a restaurant, a store at the mall - I mourn it (sometimes briefly, sometimes longer) then almost immediately start to wonder what's going to replace it. Building permits and construction signs and blocked out storefronts are usually the first signs that something new is coming. The anticipation is everything. And when the official announcement is finally made, it's like opening a present on Christmas morning - you're either really excited or really disappointed.  
I drove by the old Outback Steakhouse on North Clinton Street for years. It's a prime location. I couldn't figure out why no one had bought the building. Several months ago, I started seeing the telltale signs of "New Business" and started to get my hopes up. When I caught a news story about Bar 145°, the restaurant moving into the building, I had to know more about it. An Ohio-based gastropub, Bar 145° specializes in "Burgers, Bands, and Bourbon." There's a mash-up sensibility about the place: comfort foods made with high-quality, locally sourced ingredients served on white china by servers wearing red Chuck Taylors. That last part was no accident - their slogan is, in fact, "Red Chucks, White China."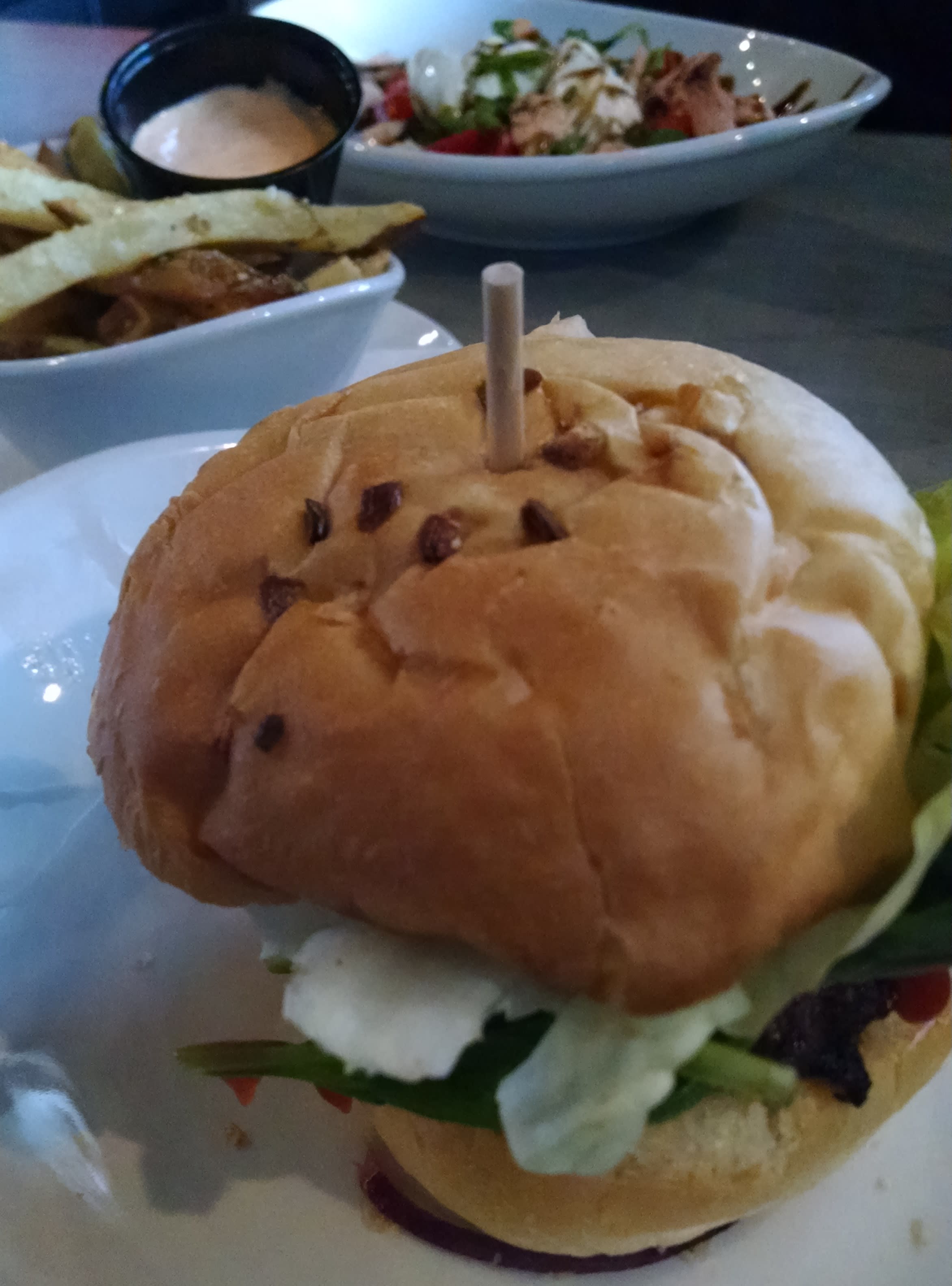 I'm not much for bourbon (although their selection of bourbons is, not surprisingly, extensive) and no bands were playing while we were there last night, so let me talk about that third thing - the burgers (and other edibles). Walking into the restaurant, you'll get an "upscale bar meets auto garage" kind of vibe. The menu is currently spring and summer seasonal, with a wide variety of familiar and less familiar foods (roasted bone marrow, anyone?). From the Table Starters menu, we ordered the Roasted Chicken and Goat Cheese Mac, which was excellent - flavorful without being too rich. I decided to go off-menu for my burger and used the "Stack Your Own" option. Everything here is a choice: the burger, the bun, the cheese, the extras, the sides. A basic burger with one kind of cheese, three extras (veggies), and two sauces costs $9; additional ingredients, special ingredients, and sides cost more. I stacked a medium Kobe beef (+$5) burger on an onion bun with Tillamook cheddar, maple cured bacon (+$1), Bibb lettuce, red onions, baby spinach, cabernet ketchup, and spicy mustard, and then added truffle fries (+$2) on the side. It was a really good burger. You can't find Kobe beef just anywhere, so I will almost always order it when I get the chance. The ingredients complemented each other nicely, especially the ketchup and mustard, which added just the right amount kick. If you're curious, Bar 145° does have non-burger and vegetarian menu options like the Caprese Salad With Roasted Salmon, which my wife quite enjoyed.
Now's the time to check out Bar 145°. It's a good place to grab a burger, have a drink or two, and listen to some live music. And with warm weather on the way, I think their enclosed patio is going to be pretty popular. To get a better look at their menu or to check out their calendar of events, please visit
www.bar145fortwayne.com
.