Summer is my favorite season. It's warm, sunny, and colorful. During the cold months I have to remind myself to eat fruit, but in the summer I crave it. A refreshing and convenient way to consume fruit this season is by drinking a cold-pressed fruit juice. With no hidden sugar and an abundance of nutrients, this is a healthy choice. There are several juice bars in Fort Wayne. Here's a guide for your selection.
Beet Street Juicery began as a way to help others after the unfortunate death of the founder's father. Backed by a Kickstarter campaign, Beet Street Juicery is a little juice shop in downtown Fort Wayne on Berry Street. (Yes, Beet Street is on Berry Street.) This shop features a variety of juices and each juice description lets you know what the health benefits are. When my roommate caught the flu this past winter, she purchased Beet Street's Bug Kicker elixir to help her fight the sickness. With lemon essential oil from Doterra, cayenne pepper, turmeric, ginger, chia, honey, and coconut water, this small jar boosts your immune system. When I caught the flu from my roommate, I also got the Bugkicker as well as the Linus Von C juice (orange, carrot, mango, green apple, and camu camu) for a Vitamin C boost. Both were delicious! If you're hungry they also offer sandwiches, salads, and snacks. My favorite snack is their Popeye Muffin. It's a vegan, dairy free, and gluten free muffin with spinach and oats as the main ingredients. For all my pursuing of Pinterest I cannot find a recipe that is as tasty and with as satisfying a texture as these muffins. These sell quickly, so if they are in stock when you visit, be sure to grab one before it's gone. You can enjoy your juice and food in their cozy dining area or outside on their patio furniture. An 8oz bottle is $6 and a 16oz bottle is $8. Metered street parking is available out front.
534 West Berry Street
Fort Wayne, IN 46802
Hours: Weekdays 8am-7pm, Saturdays 9am-7pm
260-255-4144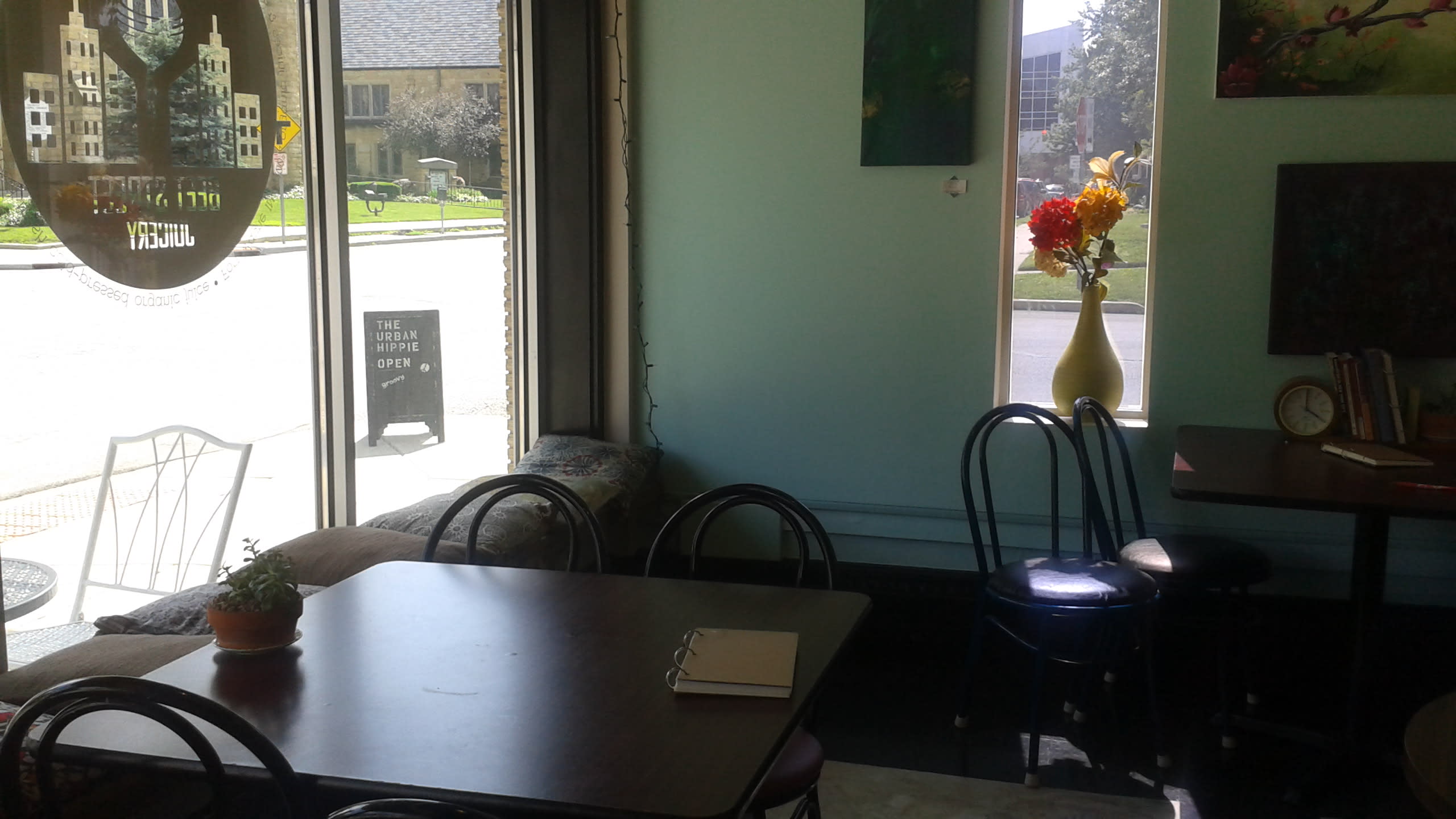 Jai Juice is another downtown juice bar, this one on Lafayette Street. Jai Juice shares a building with
PranaYoga Institute of Yoga and Holistic Health
, and was started by one of the yoga instructors, Julia Haller. "Jai" means "celebrate" in Sanskrit, and the juices are a great way to celebrate health as well as the completion of a yoga class. You can order a Juice Flight to try a small amount of the juices that they have on hand at the shop. (Juice Flight pictured in first photo.) This way you can pick which flavor you would like to have in a full size bottle instead of buying a large amount to see if you like it. I was surprised that I enjoyed their juice Awaken as much as I did since it had cayenne pepper, and I'm not one for spice. But I did like Beet Street's Bug Kicker, so maybe I can handle cayenne with the sweet balance of juice better than I thought. After sampling Awaken I bought a full size jar and spent some time in the sitting area above the shop. Prices start at $9. Free parking is located in the lot at the rear of the building.
1301 Lafayette Street
Fort Wayne, IN 46802
Hours: Mon-Thurs 7:30am-1pm, 4pm-8pm; Fri & Sat 7:30am-6pm; Sun 12pm-6pm
260-422-5245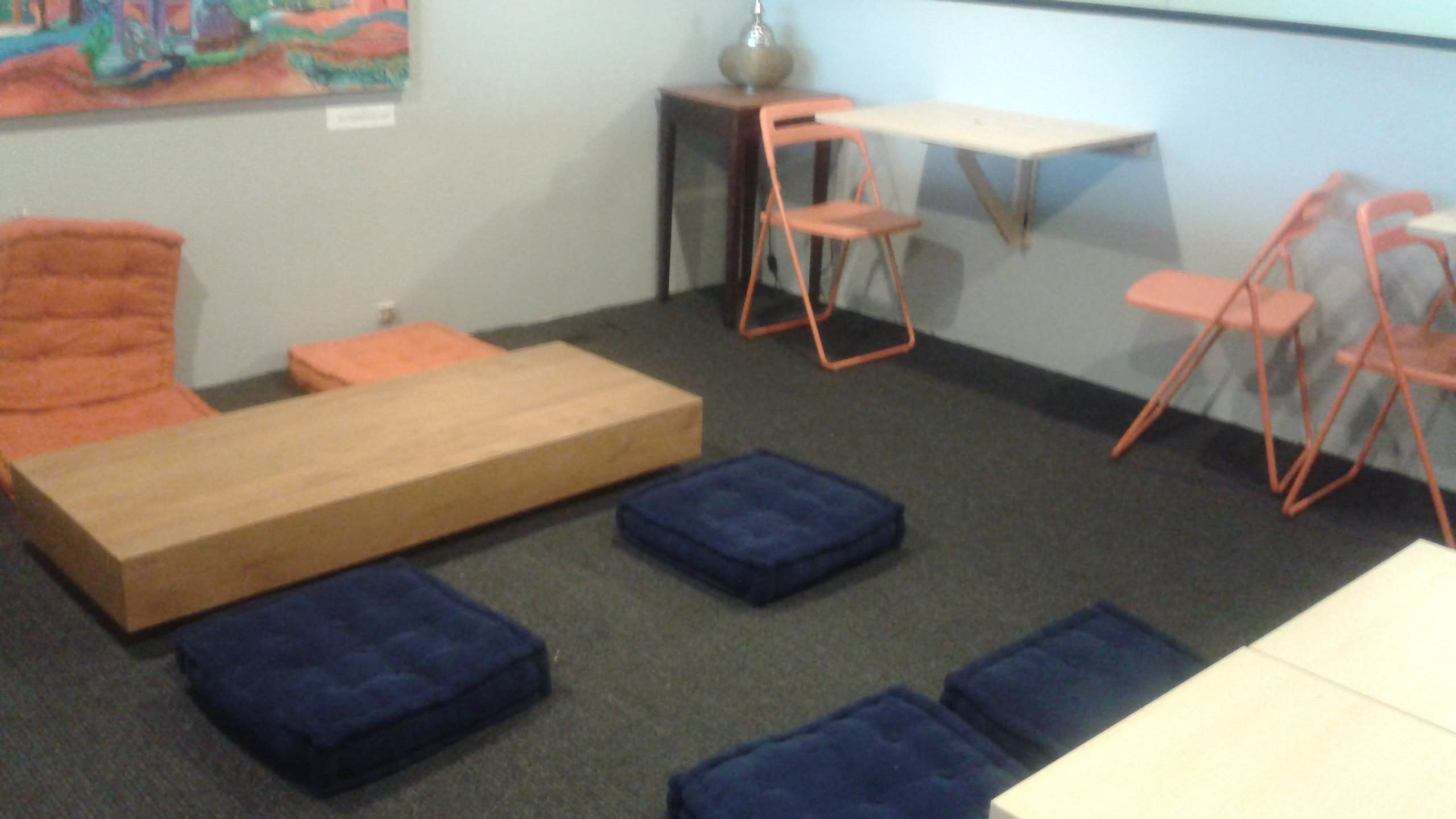 Both Beet Street and Jai Juice use organic ingredients, serve their juices in glass bottles, give you credit towards your next purchase with a return of your bottles, and offer juice cleanses. With their holistic approach, these are the elite of the juice bar scene in Fort Wayne and can offer you a lot of information on what is good for you. Be sure to contact them for more information about their juice cleanses and bottle exchange.
This frozen yogurt chain began offering juices in Fort Wayne this past spring. Red Mango is located in the southwest part of town at Jefferson Pointe, an outdoor mall. I tried their Fred and Ginger juice made of apple, ginger, lemon, and beets. It quenched my thirst on a hot day spent perusing the mall. This shop has the largest variety of juice options. You can ask for simply orange, or carrot, or apple, or pear juice. Or you can get a combination of these simple juices, like the popular Apple Cinnamon Pear juice. Then there are the more involved combinations with greens, like Cool Pineapple Zen made of pineapple, cucumber, apple, lemon, and mint. These are not organic juices, which makes the price a bit less than the first two shops. Some juices are pre-prepared and bottled, but you can also order off the menu what is not readily available.
4120 West Jefferson Boulevard
Fort Wayne, IN 46804
Hours: Mon-Thurs 7am-9pm, Fri & Sat 7am-10pm, Sun 9am-8pm 
260-739-3384
This health grocery store chain has a juice bar in its cafe area. Juices are made to order. You can choose from their Local Faves, designated blends like the popular Kale Lemonade made of kale, lemon, apple, and ginger. Or you can build your own juice. There are boosts offered like ginseng for energy, echinacea for the immune system, and spirulina, a type of algae that contains a lot of nutrients. Ask for a punch card to keep track of the juice or smoothies you purchase. Buy nine fresh juices or smoothies and get the tenth free! This may be especially easy to do if you and a group visit for a meal during their Juice Bar Happy Hour. Every weekday from 2-5pm there is a $1 discount on the price of juices and smoothies. Like Red Mango, the juices are not strictly organic and the price point is a bit lower, with prices set for a 12oz juice at $4.49 and a 16oz juice at $4.99. Also, this is the only juice bar on the far north side of town on Dupont Road.
704 East Dupont Road
Fort Wayne, IN 46825
Hours: Mon-Sun 7am-10pm
260-416-3550
Another grocery store, this one offers bottled juices such as carrot and orange, as well as signature blends. Juices are not made to order, but if you're in the area of Coliseum Boulevard and Glenbrook Mall north of the downtown area, you can pick up a bottle to go.
4320 Coldwater Road
Fort Wayne, IN 46805
Hours: Mon-Sun 7am-10pm
260-222-2818
Did we miss your favorite juicery? Let us know in the comments below!