Those colorful animals – any small child will want to know more about them. I did. There was a tall giraffe, a zebra, and an elephant that stood on top of something – a mountain? - behind the Arby's restaurant. And then, I went miniature golfing.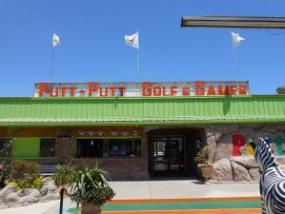 Today, Putt-Putt Fun Center on Speedway Drive still has those friendly animals plus a real, fire-throwing volcano that goes off at any time. A waterfall, benches and some really pretty flowers are also scattered around the three sets of eighteen-hole mini golf. Customers who enter Putt-Putt come in from the parking lot, walk through the arcade and out into the golfing area, where balls and clubs in a variety of lengths are stacked on the counter. Pay up at the counter for as many games as you wish, and remember to grab a score card with your ball and club. The golf course is open from mid-morning until after dark – tall, long lights provide enough illumination so that you can make a good putt and stay safe. There is some traffic noise as cars and motorcycles power past on Coliseum Boulevard or Speedway Drive, but overall, it is a peaceful place to spend some slow time in the sunshine. And full sun it is – take along some sunscreen.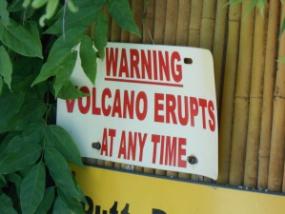 There's usually a good breeze rippling across the greens, too, so if it is cool, you might want to bring a jacket. A tall fence surrounds the golf course, so stray balls won't spin out into the street or parking lot. The Saturday before Fathers Day had many family groups out on the courses. Dads and daughters, dads with several kids, grandparents, and whole families were enjoying some time outside on a warm and sunny day. The nice thing about mini golf is that you can take turns without having to learn a number of rules to win the game. It's just point and putt! Inside the building, Putt-Putt Fun Center offers customers a game arcade and a candy counter/toy shop. Tickets for the arcade machines can be purchased at the caddy counter outside. Inside, the toy shop has miniature golf sets, board games, stuffed animals and snacks – and acres of candy. On the Saturday I was there, near noon, the arcade was fairly well-lit, not filled with too many spooky, dark shadows as some arcades are. Basketball toss, video games, and a photo booth were all part of the many activities offered. An extended family was settling into the food booth area for a snack and some soda. Putt-Putt Fun Center (click here for prices) is a great place to take the family for some low-pressure fun in the sun. The golf courses aren't too challenging, so even the youngest putter should have fun with the smallest of clubs. And if your style is more sit and watch, then pick a handy bench and make yourself comfortable – there's plenty of time.