Dancing with the Stars is one of my biggest guilty pleasures that I don't feel that guilty about loving. The glitz, the glam, the DRAMA - I love it all! And soon, you can enjoy it live and in person when the Dancing with the Stars: LIVE! Tour cha cha cha's its way into the Embassy Theatre on Friday, July 31!

For those unfamiliar, Dancing with the Stars is a live reality dance competition on ABC that pairs celebrities (or sometimes "celebrities") with some of the world's hottest professional dancers. Each week each couple must perform a dance live in the ballroom in front of an audience, as well as a judges panel made up of Carrie Ann Inaba, Julianne Hough, Len Goodman and Bruno Tonioli - all big stars in their own fields of song and dance expertise. There are high energy song choices, glitzy costumes, intricate dance moves and live performances from world-class dancers and today's top musical acts. Basically Dancing with the Stars is a condensed version of what might happen when Broadway meets Vega - and it's amazing!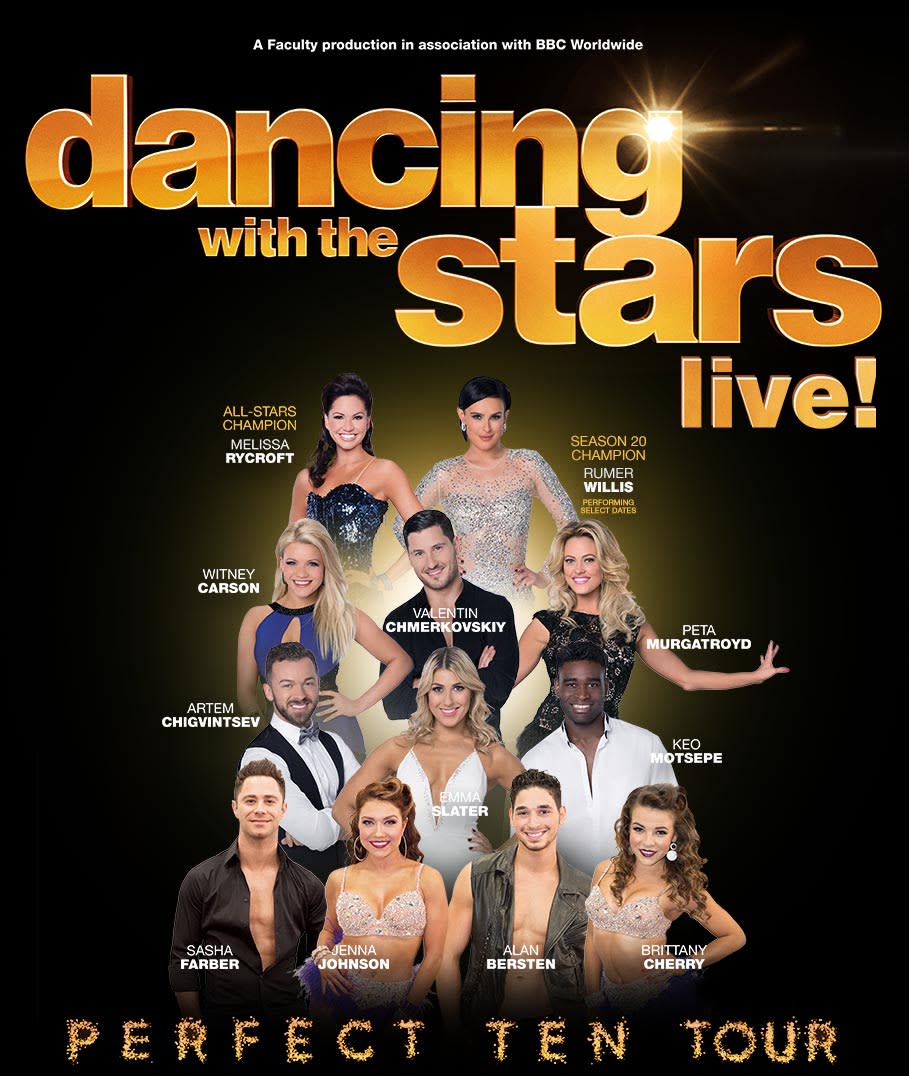 The Dancing with the Stars: LIVE! Tour promises to be nothing short of the high-energy, dazzling showcase that you see on the television each and every week. Professional dancers Witney Carson, Valentin Chmerkovskiy (one of my personal favorites), Peta Mergatroyd, and many more will showcase some of the most memorable numbers from Dancing with the Stars history, as well as perform never before seen original numbers. I love that they'll be bringing the show to the beautiful Embassy Theatre in downtown Fort Wayne. This theater really lends itself to grand stage productions such as this, and I think it will be really neat to see the dances come to life in such a historic, and intimate, performance space!

Make it a great date night or girl's night out and grab a bite to eat before the show with cocktails, and maybe a little dancing of your own, after. There are several places in downtown Fort Wayne that would make the perfect spot to make the whole evening a fun and memorable one - all within walking distance of the Embassy! Check out our restaurant and nightlife listings for some ideas! Personally, I will be making it a ladies night with my mom and grandma with good food, and some delicious drinks, at Main Street Bistro before enjoying the show!

Dancing with the Stars: LIVE! will be at the Embassy Theatre on Friday, July 31 at 8pm. Tickets are still available and can be purchased via Ticketmaster, or at the Embassy box office in person or by calling 260.524.5665. The Embassy Theatre is located at 125 W. Jefferson Blvd., Fort Wayne, IN 46802. For more information check our Visit Fort Wayne or the Embassy Theatre website!