Hey, fisherfolk! What's more fun than learning that a new area tackle shop is open? How about a couple of in-store exclusives just for Visit Fort Wayne readers? Yep, you guys are special! Read on.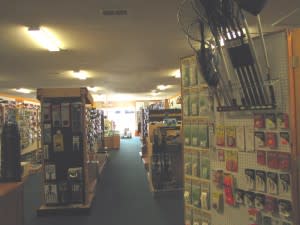 The southwest Bait & Hook Store on Winchester Road has recently relocated to its new site, 8309 Lima Road in the Tredway Plaza area, and is now open under its new name, Pro Tackle Outfitters. Owned by Jim McArdle who has operated the business 19 years, the newly-renamed store has gained more showroom space (2,500 square feet), as well as a separate clothing room with a, "full line of rain gear, waders, wading footwear, hats, fishing pants and shirts." "During spring and summer, we will be offering free fly-casting lessons to anyone interested on Saturday mornings from 9:30-11:00 a.m.," said McArdle, "and our store hours are weekdays from 9 a.m to 6 p.m. We hope to extend those hours during the summer months. In addition to fishing tackle and accessories, we are now offering a new line of small fishing boats manufactured locally. The Solo Boat is a unique watercraft designed for small lakes and ponds and can be powered by either a trolling motor or oar-power. We also stock float-boat-style pontoon boats for small lake and stream fishing which are maneuvered by swim fins and mounted oars."
The fly fishing outfitter is Rick Hinton, who has been with the company nearly six years, and formerly ran Jorgensen's Inc., a defunct gift / sporting goods store on Covington Road. Hinton offers over thirty years' experience in the fly-fishing industry. And here are those great deals we spoke of earlier: McArdle has a special just for VisitFortWayne.com readers – mention this story to him and he will give readers 10% off lure purchases and a free spool-up with purchase of a rod and reel combo. This offer is only for Visit Fort Wayne readers and is good until the end of April 2012. So, hurry in and see all the new stuff Jim has to offer before residents of the Fort find out about it buy it all up for themselves!