Black Friday. The day shopping malls go mad, and nice, normal people have the ability to turn on you at the drop of a sale on XBox's. I didn't grow up with a Black Friday shopping ritual with my mom. In my case, the day after Thanksgiving was usually reserved for sleeping off the meal from the day before, crossing my fingers that ABC Family had a Harry Potter Marathon on, curating the perfect Christmas wish list, and then napping from all of the strenuous relaxing I had been doing all day long. However, there is a special breed of people who wake up before the sun and literally shop 'til they drop as a post-Turkey Day celebration. I have joined these people just a couple of times in my adult life, and promise you there is no high like hunting down a $10 pair of Steve Madden boots (as a gift, obviously!).
Lucky for those of us in Fort Wayne, there is no shortage of Black Friday shopping options. You have your malls - Glenbrook Square and Jefferson Pointe; your smaller shopping centers like Covington Plaza and Northcrest Shopping Center; and tons of stand alone shops all over the city. In my few attempts at mastering the true skill that is being a Black Friday shopper I have some suggestions for those braving the Fort Wayne Black Friday shopping scene for the first time.
1. Have a plan. This may seem like a no-brainer, but Black Friday can be a really overwhelming experience. And, Fort Wayne is a lot bigger than some people give it credit for. You may be thinking "Shop ALL THE STORES!" - but really maybe narrowing it down to a handful of stores, or at least a general area, will make it so your Black Friday is a lot more shopping and a lot less dropping. For a list of all of your shopping options check out our shopping page.
2. Shop local. Big box stores and the chains we all know and love might be the first shopping destinations that pop into your head, but show our local store owners some love too! There are so many hidden shopping gems in Fort Wayne, and many of them are also open on Black Friday with deals to spare. Some of my favorites are Cakes Boutique, Emily's Haute Cottage and Olive Twist.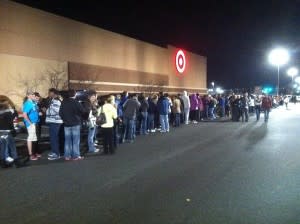 3. Don't forget to refuel. This can be crucial, especially when your shopping day may begin at 3am, and you're still snatching up deals at noon. Any part of town that you're in has great dining options whether you need to sit down and rest your legs for a little bit, or just need to grab and keep on going.
4. Dress for any weather. This is Indiana. It has been known to go from sunny and mild with not a cloud in the sky, to freezing and rainy within a 24 hour period. Layers are crucial for transitioning from waiting outside in a long line in the middle of the night to running through department store aisles in the afternoon.
5. Spend time with your family. This one is more of a personal opinion, but please for the sake of all things great about Turkey Day, make sure you're not cutting off your family time to head out and shop early. Many stores nationwide, and in Fort Wayne, are opening as early as 6pm Thanksgiving night. I don't know about you, but I'm still finishing my grandma's pumpkin pie off at 6pm. So, don't rush the time you get to spend with your family and friends - enjoy it and I promise the deals will still be there if you go out just a little bit later.
Now get ready to conquer Black Friday! Run, don't walk, to the best steals and deals in Fort Wayne!
For more information on shopping in Fort Wayne, visit our shopping page. To make it a whole trip, check out our shopping itiner