Randy Harter, a Fort Wayne native and retired business executive, has been a collector of local vintage postcards and history reference materials for over 35 years. He has also written several local history pieces over the years, including his most recent, a book just published by Arcadia Publishing that includes many never-before-seen images of the Summit City. "Postcard History Series: Fort Wayne" includes over 225 postcard images and accompanying history. Harter hopes the images bring back fond memories for many and help fill the local history blanks for others.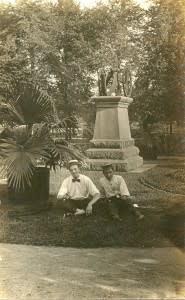 According to Walter Font, curator at the History Center, the importance of preserving early Fort Wayne postcards is that "in many cases, the only image that still exists of a local event, structure, or vista is from an early postcard." Harter says the challenge in compiling the book was not a lack of images, even though it was limited to only pictures from postcards, but rather narrowing it down to 225 postcards showing a representative view of Fort Wayne, a beautiful and storied city. "With the help of other local postcard collectors, more than 3,500 Fort Wayne images were available from which to choose," Harter says. The book represents a visual history of Fort Wayne and is available on Arcadia Publishing's website, Barnes and Noble, Amazon.com, and at The History Center in Fort Wayne. Beginning with the cover image, "Postcard History Series: Fort Wayne" celebrates the growth and success of the city during the first half of the 20th Century. The cover photo is a circa 1935 aerial photo postcard of downtown, offering a vibrant view of the crowded central business district, devoid of today's parking lots, featuring the 1902 Courthouse and 1930 Lincoln Tower. Pictures and the accompanying researched captions in the book cover many of the city's retail stores, hotels, theaters, churches, restaurants, transportation, businesses and industry, many of which have been lost to progress and time. Also featured are images and the history of three Fort Wayne disasters, the horrific 1908 Aveline Hotel Fire, the 1911 Penn Flyer Wreck, and the 1913 flood.
Harter purchased his first postcard for twenty-five cents in 1976. It was a circa 1920 image of Lakeside Park that spurred his passion for historical postcards, and he has been on the prowl for unique additions ever since. His collection now contains nearly 3,000 local postcard images, which he and his wife Patricia recently gifted to the Allen County Public Library. "Local history information, captured on all kinds of materials, chronicles the lives and events of a community," explains Curt Witcher, Genealogy Center Manager at the Allen County Public Library. "Postcards represent some of the most unique pieces of local history as they tell stories through images and personalization made on the cards. The Harter Postcard Collection is among the most unique and prized collections of Fort Wayne and Allen County history." Harter is currently in the process of digitizing and cataloging his postcard collection for the Library where they will be available online via the Allen County Community Album.