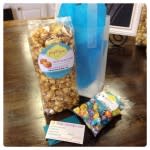 Ahh..popcorn! Is there anything more American? So many of our childhood memories involve popcorn. Movies? Check. Baseball games? Check. The circus? Check. The nice part about growing up is you don't have to abandon those traditions. Instead, why not dress it up? If you're looking to take your snack habit to the next level,
Poptique
is the place to go. Why? One word: variety.  Whether you crave
flavors
like buttery caramel, zesty cheddar cheese, chocolate and fruity, they've got just what you're looking for! I'm not sure you'll find a birthday cake flavor anywhere else! Looking to treat yourself, or a friend or family member? they'll take care of you. For example, you can take home a snack sized popcorn bag (available in three sizes) in your flavor of choice. Or send some joy for a special occasion with a gift tin or popcorn sampler. which is a compilation of several flavors.  They have options under $10! They also specialize in wedding catering and other special events.  
Insider's Note: Their popcorn is cooked with coconut oil, which is a bit of a novelty.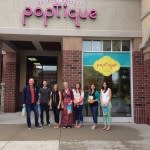 Poptique is not just another store in the mall. Rather, it is an example of a down home success story. The owner, Lindsey Hively, is the consummate entrepreneur. She and her father started the business in 2008, and have not strayed from their roots. Although they have customers around the world, they are grateful for their first customers who believed in them. Despite success, Lindsey remains humble and down to earth. Plus she really knows her popcorn! And their hard work has paid off. They were able to grow the business with a second storefront, located at Jefferson Pointe. (Their original location is in Columbia City). Store hours are Mon-Sat: 10am - 9pm and Sun: 12pm-5pm. Can't make it to the store? Don't worry. They do shipping! Here's to sweet or salty goodness in your future!