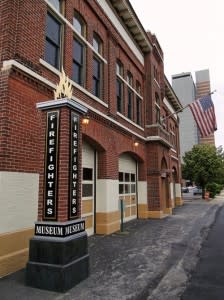 I'm sorry to say I've worked in Fort Wayne for many years and only recently visited the Fort Wayne Firefighters Museum. I have no excuse for my lax behavior as the museum is conveniently located next to the downtown branch of the Allen County Public Library and the Grand Wayne Convention Center. I'm so glad I made the effort to finally visit this historic building that once housed some of Fort Wayne's bravest citizens. Constructed in 1893, the building was known in its operating days as Engine House 3. It remained operational until 1972.
The building's east side was built first; as the population of Fort Wayne increased, a wing to the west was added in 1920s. During my self-guided tour, I saw actual fire trucks used by Fort Wayne fire fighters at this station in the 1940s. One of them was built in Fort Wayne in 1942. A neat looking horse-drawn fire truck on loan from a benefactor in Michigan is similar to the model used in Fort Wayne in 1898. There was one highly unusual item in the firehouse that caught me totally off-guard. It was commonly known during the 1940s and 1950s as an 'iron lung'. This machine was used to treat polio patients by helping them to breathe. The bulky machine was needed to help patients travel to medical treatments. Firefighters from Engine House 3 volunteered to transport the patients on their trucks at risk of their own health.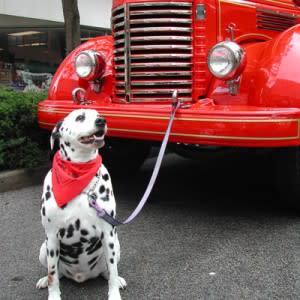 The museum's second level contains a kitchen and sleeping area reminiscent of what would have been used by the firefighters. A movie theater with approximately two dozen seats runs a film describing the history of firefighting. An interactive area teaches visitors about fire safety procedures. Souvenirs are available at the front desk, including Fort Wayne Fire Department patches and T-shirts. This is a neat place for groups to tour, including seniors and children.
Call ahead to reserve a time for group tours. 226 West Washington Blvd. Fort Wayne, IN. 46802 260.426.0051 
This post was originally published in 2012 and has been updated.