Does it feel like everyone you know is heading out of town for Spring Break? Are you wondering what you're going to do for a week with no travel plans? I have some ideas that will help you make this year's Fort Wayne staycation better than any destination you could have traveled to.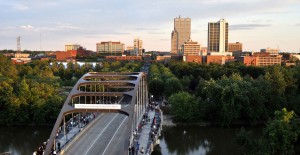 Unplug
The best part about being on vacation is being away from it all so why should a staycation be any different. Turn your out-of-office message on, record an outgoing voicemail that you'll be on vacation, don't offer to take calls on vacation, and don't drive by the office. Would you be checking messages if you were in Disney World with your family? Probably not, so why check in frequently on a staycation? Consider hiding the clocks, your watch, and spending little to no time on the computer.  If you wouldn't live by the clock or keep your laptop open while hiking the PCT, than don't do it on your staycation either.
Turn your home into a vacation paradise
A great vacation luxury is staying in a nice hotel. When you arrive it's clean, has wonderful linens, nice bath products, and soothing music. Create the same oasis in your home before you start vacation. Consider hiring a professional cleaning service like Maids2Order in Fort Wayne to embrace that luxury feeling right from the start of your staycation. Check out Steinmart, or Bed Bath and Beyond, and treat yourself to the luxury of high thread count sheets, towels, and robes just like you would find in a hotel.
Have a Theme
There are so many great things to do in Fort Wayne so why not go all out and create themed days to enjoy.  Here are a few ideas. For the Love of the Game. Fort Wayne has dozens of parks for outdoor fun whether you're looking to shoot hoops, play a game of baseball with friends, or kick it old school with games of tag and dodge ball!  Why not invite friends and create your own Olympics? Pick your family's favorite sports and enjoy them in one of Fort Wayne's
parks
. Finish off the day with a
TinCaps
game. Choose a night that includes fireworks, and your day will be capped off just as magically as it would have been while hanging out with the mouse in Florida. Learn Something New Have you always wanted to learn to play golf but never made the time? Contact some of Fort Wayne's first class
golf courses
and take a lesson. Always wanted to try Yoga? Give Lotus Yoga and Wellness Gallery a call and check out a class. Are you a budding artist just waiting for someone to give you a brush? Take a class from Wine and Canvas. They'll not only teach you to paint but they'll offer the class in a beautiful setting like
Country Heritage Winery
. Party Like You're on Vacation Do you like to blow off some steam and put your dance shoes on while you're on vacation? Plan a night out during your staycation too. Whether you're looking for a boot stompin' good time at the Neon Armadillo, or you want to kick up your heels with some local bands at Duty's Uptown Bar & Grill there's always great places to dance. Looking for some great jazz?  Check out
Club Soda
's live music on the weekends. Be a Tourist in Your Own Town Check out all of the sites visitors come to town to see. The
Fort Wayne Children's Zoo
, the
History Center
, the Fort Wayne
Museum of Art
,
Botanical Conservatory
, and
Science Central
are just a few of the places tourists love to visit.  Staycations are a great opportunity to see all of the places that we drive everyday and yet never stop at. The Great Outdoors Would your vacation consist of camping or hiking in the woods? Your staycation can too.
Fort Wayne Trails
has over 60 miles of trails in Northeast Indiana to explore on foot or by bike. Check out
Fort Wayne Outfitters
to rent bikes or rent a canoe and take advantage of the rivers in Fort Wayne. Earth Adventures on West Main Street will outfit you with anything you need to camp out in your own backyard while on your staycation. Enjoy a Spa Day If treating yourself to a luxury spa experience is part of your vacation ritual don't miss out on your staycation.  Schedule a spa day at Woodhouse Day Spa for all the best pampering at a much more affordable price than a resort spa.  If a spa day isn't in your budget, stop by the Aveda Store in Jefferson Pointe Mall to stock your bathroom with the best in spa products that will leave you feeling pampered. Tip: Many of their products are available in budget friendly travel sizes. For more suggestions, check out the
Spring Break section
at VisitFortWayne.com!