Got the hungries for something new and out of the way?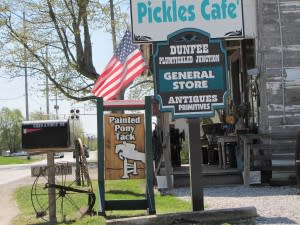 Saddle up old Star and meander a few miles down Illinois Road from Fort Wayne. Put the "Whoa!" brakes on when you see a sign saying "Dunfee," because you'll want to turn right on County Line Road.  Go about a mile down the road, cross the tracks and there, on your left, will be Dunfee Plumtickled Junction, which includes Pickles Café, a nostalgic General Store which steps back into time with yesterday's reminiscent items & foodstuffs, and the Painted Pony Tack Shop. For a cozy small breakfast / lunch restaurant with only eight inside tables and a few outside on the long, rustic porch of the 1880s–built edifice, the place is very popular. But don't worry, while you're waiting for your table and a home-cooked meal, you can entertain yourself by browsing nostalgically among the antiques and primitives in the general store in the front part of the building, or visit the upstairs tack shop and get that snazzy rope hackamore you've been wanting for your new trail horse. Pickles' owner Kim Shear attributes the success of the restaurant to hard work, a compatible staff and great customers. The most asked-for menu item?  "Probably our chicken salad," said Kim. Lori Plant, Shear's mother, says the restaurant prides itself on not serving any fried foods, offering instead made-from-scratch soups, salads and signature sandwiches.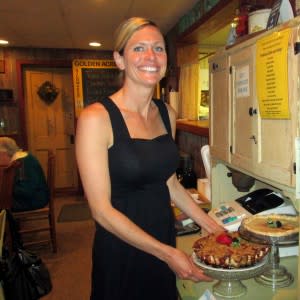 "Customers can choose from white bread, wheat bread or a wrap," said Plant, "and all sandwiches come with chips, fresh fruit and pickles. We also have beverages, including various teas, and desserts made from scratch." There is a children's menu, too, said Shear, but if the kids want something from the regular menu, smaller portions can easily be made for them.  The menu is updated each season so there's always something new to look forward to. For more info, call 260 625 5477, or visit Pickles at 5310 S 800 E-92 Fort Wayne, IN 46818-9229.  Hours are 10:30 a.m.-2:30 p.m. Tuesday – Friday, and 9:00 a.m. – 2:00 p.m. Saturday.  While you're there, don't forget to browse the general store and tack shop.   The owners – Roxie and Conna – will love you for it!