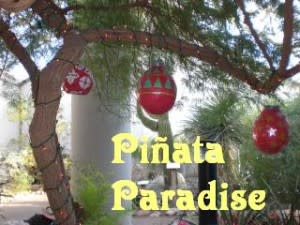 Piñatas are a traditional feature in Mexican birthdays and Christmas parties. They are also a creative outlet for families, scout troops, and after-school programs to make together. All entries for the Pinata Paradise have been designed and decorated by area children, community groups, and others who want to share the holiday spirit. In mid-December, these candy-filled creations are donated to children's agencies to add some extra fun to their holiday celebrations.
In the next few weeks, making a piñata with your family is a fun way to spend a cozy evening indoors--and if you follow a few simple how-to's, it's an easy do-it-yourself project. Although there are several ways to create a piñata, I've found that the best plan of attack (especially when working with young kids) is to choose a simple shape to mold around--a round balloon, a shoebox, and empty paper towel tubes can all be used either alone or all together for a more complex shape (like a person or animal) if you're feeling more adventurous.
Once you've decided on your mold, leave a hole in the bottom and cover the body of the piñata with strips of torn newspaper soaked in "glue" of flour and water--there are easy to make recipes that can be found online. Any basic paper-mache recipe should work but watch the little ones closely, or you may end up with a bigger mess than planned if a little "helper" dumps the craft glue into the paper-mache mix instead of saving it for the crepe paper decoration step.
After the decorated piñata dries, fill it with candy through the reserved hole and it's ready to go. Drop off your completed piñatas to the Botanical Conservatory November 19-22 from 10 am - 5 pm. They will hang on display in the Desert Garden from November 23 through December 8.
If your family, seniors group, school  group,  scout  troop, or youth group would like to participate by designing, filling, and donating a piñata, please call 427-6446 or visit www.botanicalconservatory.org. On the website you can also find links with helpful hints, a more in depth history of the pinata custom, as well as downloadable forms for donating your pinata to the conservatory this holiday season.
Piñata Paradise at the Botanical Conservatory - Conservatory Hours: Tuesday, Wednesday, Thursday, Saturday 10 am - 5 pm, Thursday & Friday, 10 am - 8 pm, Sunday Noon - 4 pm, Closed Mondays. Admission: Adults $5,  Children (ages 3-17) $3,  Age 2 and Under FREE! The Botanical Conservatory is located at 1100 South Calhoun St. Fort Wayne, IN 46802.