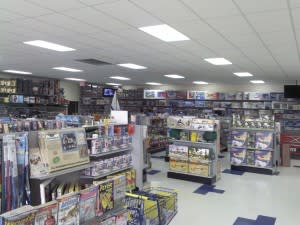 Got a hobby? Look no further than Phil's Hobby Shop! A locally-owned business, Phil's Hobby Shop began in 1975 when Phil Gieseking bought the original Lake Avenue shop location. Ultimately, he wanted to start a repair business for radios.
An avid remote control plane flyer himself, Phil turned the store into what is now known as Phil's Hobby Shop. Fast forward 30 years and Phil's Hobby Shop has moved Clinton Street as well as a location in Defiance, Ohio. In 2011, Phil's son, Steve Gieseking, and his business partner, Paris McFarthing, purchased the Lake Avenue store in hopes of carrying on the family tradition.  The two have expanded the family business to include yet another location in Fort Wayne at the Parkwest Shopping Center. Today, Phil's Hobby Shop continues to experience healthy growth in the hobby industry.
So, what exactly do they offer? Each Phil's Hobby Shop location carries a wide variety of remote control vehicles; ranging from cars to airplanes, from boats to helicopters. Customers will also find a wide selection of  plastic models, trains, and general hobby products. In addition to the traditional hobby shop merchandise, Phil's also carries a wide variety of science and educational kits, games, educational children's toys, Pinewood Derby cars, rockets, and kites.
One thing is for sure: the people of Fort Wayne come to Phil's Hobby Shop for an experience. Take a turn on the 16 foot slot car track, visit the kid's area, and watch the custom train display being built. All associates are hobby enthusiasts willing to go the extra mile. They are happy to service a purchase. So, be sure to keep Phil's Hobby Shop in mind for your next hobby related purchase! Visit the Phil's Hobby Shop website for more info. 
*This post was originally published July 2012 and has been updated and reformatted.