January: bleak midwinter. Outside it's cold and gray; inside, the Christmas tree has come down and the lights have been packed away.
Perk up your mood by treating yourself to a trip to hear our wonderful Fort Wayne Philharmonic Orchestra. I remember the first time I attended a Phil concert when I moved to Fort Wayne, twenty years ago now. I was amazed at the talent of the group. I couldn't believe that a city the size of Fort Wayne had such a wonderful orchestra.
But we do, and January features five Philharmonic events to delight your senses.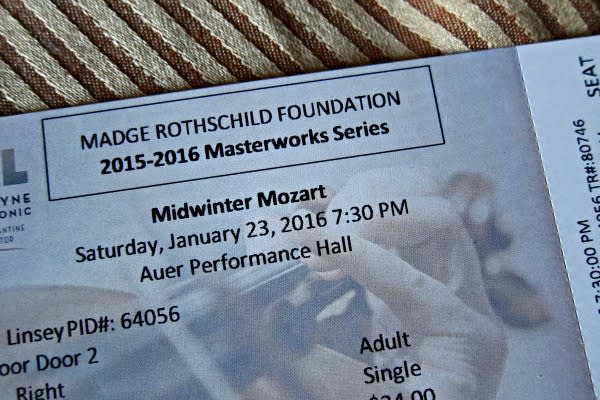 Tchaikovsky
The first performance of 2016 is a Masterworks concert featuring Tchaikovsky's Violin Concerto. This will be held Jan. 9 at 7:30, at the Embassy Theatre. Violinist Yoojin Jang, 2014 International Violin Competition of Indianapolis prize winner, will amaze with her interpretation of this emotional work.
Midwinter Mozart Festival
What composer could better lighten a dull winter mood than Mozart? Perhaps that's what the Phil had in mind when they planned a Midwinter Mozart Festival. This festival consists of three concerts, two of them in January.
Jim Palermo, Phil Managing Director, said that the Mozart Festival is unique in that the concerts will involve the full orchestra, chamber orchestra, and a chamber ensemble over the three programs. Each concert will also feature a different location, and they will feature varying instrumentations as well as other auditory treats such as a chorus."Hearing the juxtaposition of the different genres, the varying styles, and different instrumentations in various performance venues offer listeners an unprecedented glimpse into the variety and scope of this magnificent composer, all within a very short period of time," Palermo writes.

The first performance will be January 23, at 7:30, at IPFW's Rhinehart Music Center. It will feature the full orchestra playing Mozart's Overture to Don Giovanni, Symphony #40, and Piano Concerto 21 with soloist Boris Slutsky.
On January 27, you can head to the Fort Wayne History Center at 7:30 to hear Mozart's Clarinet Quintet and other works performed by a chamber ensemble. This performance will be repeated on January 31, at 2:30, at IPFW's Rhinehart Music Center.
The final Mozart performance will be February 6, so stay tuned -- so to speak -- and mark your calendars ...

Ukulele Plays Pop
Perhaps you'd like to lighten your winter mood? The Phil has you covered for that as well. On January 30 (7:30, Embassy Theatre), you can hear Jake Shimabukuro, Ukulele Wizard, as he joins the orchestra in a Pops series performance. Millions have enjoyed Shimabukuro's performances on YouTube, so it will be a real treat to hear him live with our own orchestra.
Which performance intrigues you most?