With such innocuous titles as 'I'm into something good', 'Mrs. Brown, you've got a lovely daughter', 'There's a kind of hush', and 'I'm Henry VIII, I am', Herman's Hermits and lead singer Peter Noone earned top billing during the 1970s as part of the British invasion in the US. Noone and his band went on to sell 60 million records and seven of their albums went gold. Noone and his band will perform their classic hits on June 9 at 8 p.m. at Foellinger Theatre.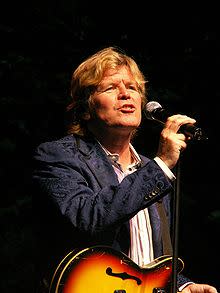 Noone is filling in for the concert scheduled for Monkees singer Davy Jones. Sadly, Jones died of a heart attack earlier this spring. Peter Noone had often performed with Jones over the last several years and he generously agreed to fill the void. Herman's Hermits starring Peter Noone is part of  "A Summer to Remember" concert series at the Foellinger Theatre. Seats for Herman's Hermits starring Peter Noone are priced at $25 for Reserved seating and $20 for bleacher seating. Concert tickets may be purchased by calling 260.427.6000 or at
www.fortwayneparks.org
. Tickets may also be purchased by visiting the Parks & Recreation Department office at 705 E. State Blvd, Monday - Friday, 8 a.m. - 5 p.m. Tickets will be sold online until three days before each concert. Tickets are then available by phone with a credit card or at the main office (705 E. State Blvd). Tickets will be held at the Will Call window at the theatre prior to the concert. Please note: Wheelchair accessible tickets and companion tickets are not available for purchase online. Please call 427.6000 or 427.6715 (day of show) to purchase.
Foellinger Theatre offers free parking at all concerts.