What's better than freshly baked bread? Freshly baked bread from a local bakery of course! Pembroke Bakery is downtown Fort Wayne's newest bakery and cafe. Located in the Auer Center for the Arts, the business provides healthy breads, pastries, sandwiches, salads and more. They also sell their tasty products, plus some organic produce from their home garden at Fort Wayne area farmers markets year-round. (Think
West Main Street Farmer's Market!
)

According to their
Web site
, the owners Angie Quinn and Steve Nagy use recipes from great-grandparents, friends and extended family to serve up modern, healthy versions of traditional baked goods, and specialty items. This place is a dream come true for people with allergies or dietary restrictions. Most of their items are vegan (egg and dairy-free), and several are gluten-free as well. When in doubt you can't go wrong with one of their cinnamon rolls. Bread lovers will appreciate their fresh loaves of whole wheat and sourdough, as well as garlic bagels, sesame bagels and loaded bagels topped with onions, sesame and poppyseeds.
Note: People requesting gluten-free loaves should call at least three hours in advance.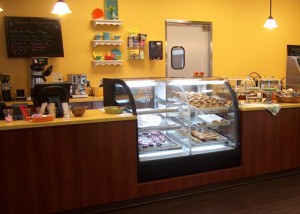 An added perk: the cafe has WiFi. Just ask the person at the counter for the code. This place is perfect for working lunches or just relaxing. The bakery is open Mon.-Fri from 8 am- 8 pm, Saturdays, 8:30-5pm and Sundays 12-5pm. Parking is available in the lot behind the Auer Center, off of Lafayette.