Mouth-watering food? Check. Attention to detail? Check. Fun atmosphere? Check. If you're looking for a dining option off the beaten path,
Paula's on Main
(Known to locals simply as "Paula's") will exceed your expectations.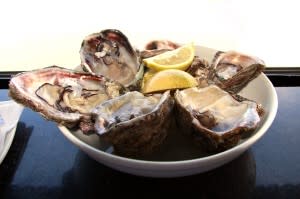 Locally owned and operated, Paula's is known for its seafood selections. (I recommend the fish tacos). But I assure you there's something for everyone here. Meat lovers will appreciate the red meat options.  Regardless of your tastes, I suggest starting your meal off with an appetizer, like some calamari or some crab cakes, and you won't regret it.  Then dive into one of their main courses, perhaps the catch of the day, or lobster tail. One bite and you'll wonder if Fort Wayne is near the ocean. It's that fresh! In addition to the renowned fare, the service and atmosphere can't be beat. Attentive servers go out of their way to ensure a one-of-a-kind experience. They are well versed in the wine selection and will offer you a sample if you're unsure about a pairing. You'll notice it's the special touches that make the difference. I mentioned atmosphere earlier. Yes, Paula's has a relaxed vibe that makes you feel like it's the weekend all the time.  You'll feel equally comfortable in jeans or a suit. Nautical themed decor adorns the walls, making guests feel like they're at the lake.  The decor is tasteful without being tacky. Not in the mood for a meal? Grab a seat at the bar and order from their impressive wine list.  Their signature martini is never a bad idea.
Insider's Tip:
 While you are in make sure you check out the on-site fresh seafood market. Paula's is open for both lunch and dinner. It is recommended to make a reservation on the weekends. In short, if you're looking for a dining option for business, or pleasure Paula's won't let you down. You can check out their Facebook
page
for updates, features and more!