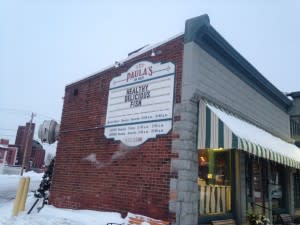 If you live in Fort Wayne and love seafood, chances are good that you've dined at Paula's On Main. Known for their fresh seafood market and famous clam chowder, it's one of my favorite restaurants in town.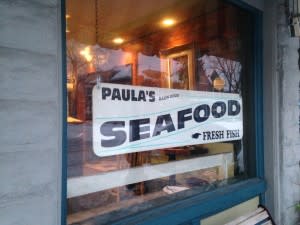 Although my husband and I usually stick to our favorite go to dishes, I've also tasted most everything on the menu—and it's all spectacular. I usually begin our meal with a nice glass of white wine from their extensive wine list, and my husband orders a beer to go with our bread and butter. We both get the clam chowder, no matter if it's a hot summer evening or freezing cold night in February—it is just too good to pass up. If it's lunch or I'm not in the mood for a huge main course, I select the seafood salad. Fresh greens are topped with warm shrimp and expertly seared scallops, with creamy goat cheese for tang, and a delightful dressing I could never recreate on my own. It's the perfect combination of sweet, salty, crunchy and fresh.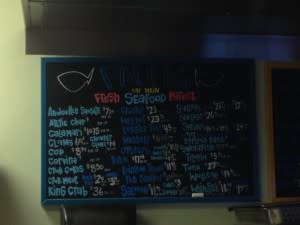 Each day there is a fresh fish on special, and whether it be blackened salmon, grilled swordfish, pan seared scallops, or succulent crab legs, you can't make a mistake. And don't forget to try the crab cakes—so delicious, and almost as irresistible as the chowder.
The pan-fried walleye is my husband's all-time favorite, a generously portioned filet crusted with a crispy breading. I always forget how much I enjoy it, and have to sample some each time.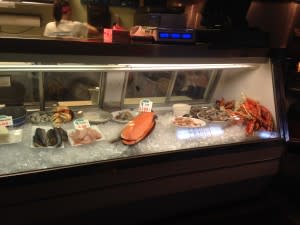 If you're looking for a great place for seafood in Fort Wayne, Paula's is the best. The restaurant is charmingly decorated in a nautical theme, and the fish market up front is perfect for bringing home their fresh catches to prepare at home—and the clam chowder can be taken to go as well. It's the perfect dining experience, with live music weekly and the best seafood you'll find in the downtown area.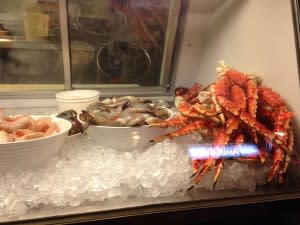 Paula's On Main 1732 W Main St. 260-424-2300