The Fort Wayne Philharmonic will be giving a series of Patriotic Pops concerts, including a special event here in Fort Wayne, at Parkview Field.
The Fort Wayne Patriotic Pops will begin at 8:30 p.m. on Sunday, July 3, and will conclude with fireworks. Selections on the concert range from standard classics, like "Stars and Stripes Forever," to newer works, such as "Gardens of Stone" by Indianapolis-based composer James Beckel.
The concert is free and open to the public. Gates (and concessions) open at 5 p.m., and the best seats are around home plate. Last year's concert had more than 8,000 attendees, so you'll definitely want to stake your claim to a seat early!
"Patriotic Pops is a gift to the community, a celebration of the best in American culture and traditions," noted former Philharmonic Assistant Conductor Chia-Hsuan Lin, in a press release. She will be coming back to Fort Wayne to conduct the Patriotic Pops concerts.
Culture and tradition are definitely a part of this concert. There will be a selection of music, labeled "Sing Out, America" that includes such standards as "You're a Grand Old Flag" and "God Bless America." And don't forget the "Pops Hoe-Down." This one will definitely get your toes tapping to fiddle tunes, like "Turkey in the Straw."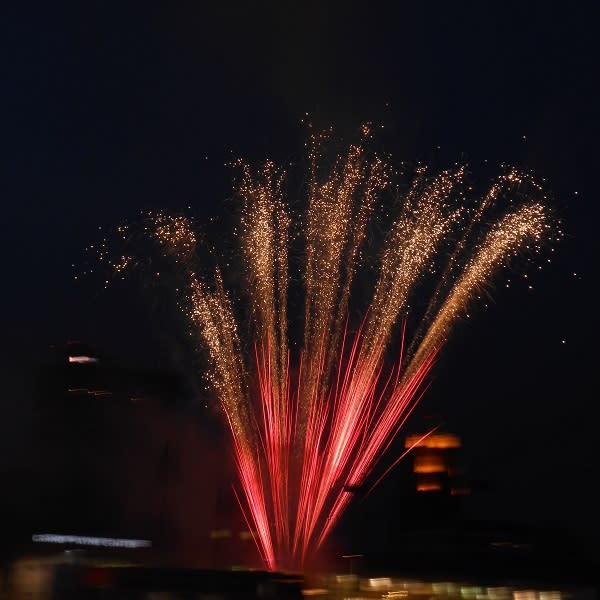 Aren't the fireworks neat? This was at last year's Patriotic Pops.
Something you'll notice at the Philharmonic Pops concerts is a great attitude of community enthusiasm. Last year, the whole thing was like a good-spirited picnic. Everyone was ready for a good time, and they all seemed to tap and bob along to the peppier numbers. Maybe it was the guys in Uncle Sam suits on stilts. Or maybe it was the Dippin' Dots and other concessions you could smell. Or maybe, it was the music.
The Fort Wayne Philharmonic pulls out the good stuff when they create their Patriotic Pops concerts. It's American, it's simple, yet it's beautiful. And there's just something about a crowd that spontaneously sings "Glory, Glory Hallelujah" as the Battle Hymn of the Republic warms up in the orchestra. It makes you proud to be there.