It's a beautiful day in Fort Wayne...birds are chirping, the sun is shining and the kids are going BONKERS! What's a family to do? Especially a family that wants to have some fun and enjoy the fresh air while not spending a dime? As a mom myself, I can appreciate the desire to find activities that are fun and free! That's why we love the Parkview North Family Park!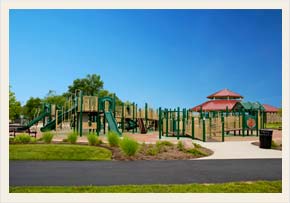 Parkview North Family Park, located at Parkview North Hospital, can be found just East of I-69 and north of I-469. It is not only convenient to get to, but full of activities that were carefully designed to meet the needs of our community. This 26.5-acre "playground" was designed for families as well as organizational events and hosts a large assortment of features that are sure to please any size group!
Fully handicap-accessible playground with soft surface
Picnic shelters
Age appropriate playground equipment
Adult exercise equipment
Large covered pavilion with restrooms
Scenic pond
Amphitheater with stage
Free parking with paved walkway into park
Hours: open daily from dawn to dusk
On our first visit there the kids bolted from the car like wild animals just hoping to be the FIRST to play! The next, time....same exact thing with even more gusto! If you have kids, then you know that "been there-done that" is often a scenario on activities. Not with this park! The park is so fabulous that they literally sprint each and every time we visit, straight from the car all the way to playground. It's like your first time there…every time! The playground is an event in itself...with slides, swings, climbing platforms and so much more...it truly stands out as one of Fort Wayne's finest, most well-thought-out parks for families in this area!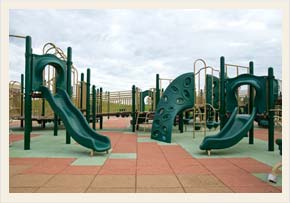 Now you might wonder, what fun is this for parents? Well it's always a joy when the kids are happy and playing, but it gets even better! I was not only impressed with the covered pavilion (where my daughter begged me to take her for her Birthday party) but they have also included a paved walkway all around the play set as well as an amazing outdoor gym! Yes - an outdoor gym with all kinds of adult exercise equipment FACING the playground. This is so amazing because all of us adults can exercise while keeping a close eye on our kids! Even if you do not have children, it's a great way to get in your daily workout while enjoying the fresh air, listening to the birds chirping while overlooking the scenic pond! The paved walking path and outdoor exercise areas are the perfect place for a workout. There are so many pieces of exercise equipment in the adult-only, fenced-in exercise area to choose from. The quality and condition is top-notch and readily available for your use to get in shape – for FREE. This fall, when the leaves begin to change color and the air is crisp, and you long for a fun outdoor space to relax for a picnic, get a workout in or just unwind with the family…..Parkview North Family Park is a great place to spend the afternoon!