Do you have regular Mommy/Daughter or Daddy/Daughter date nights? It's something special my family started in the past year. If you have more than one child, I think it's especially important for kids to get one-on-one time with each parent. If your child is a fan of quality time, then this is for you!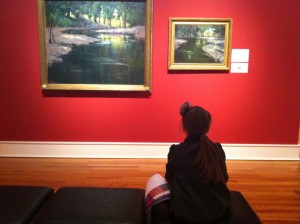 Fort Wayne offers many options for you and your darling daughter to enjoy quality time together. These outings are excellent opportunities to try area attractions you haven't visited before. Many places you can visit are low or no cost making an afternoon on the town very affordable. Here are a few options that my daughter and I have enjoyed or plan to enjoy on our next date:
Fort Wayne Museum of Art - They have a special hands-on area for kids that makes art accessible for your child no matter the age. Don't just stay in the children's area; enjoy the exhibit being featured and take the opportunity to learn side-by-side with your daughter. If you go on Sunday, admission is free.
Big Girl Drinks - Make your daughter feel grown up by taking her out for "coffee" (a.k.a. hot chocolate) at a local coffee shop like Mocha Lounge, Firefly, or Old Crown.
A Great Tale- With Barnes & Noble locations at Jefferson Pointe and Glenbrook Mall, choose the one that's close to your itinerary. Spend some time in the children's section picking out books and reading them on the stage. Unless you purchase a book, this stop is free!
Sweets for your Sweetie - Does your sweetheart also have a sweet tooth? A stop at DeBrand's for a chocolate or local bakery like Vanilla Bean or Yummee's, will surely make her grin.
Pretty Pedi - Many spas that feature pedicures will also have a special child's pedicure. We have had great experiences with Cali Spa at Dupont and Lima Roads. They offer your little darling the standard juice to enjoy and add flower details to the polish, which is the perfect finishing touch. Their child's pedicure is $22.
Dine Downtown - Going downtown is a thrill for kids with the change in sights and sounds. Whether you enjoy breakfast at Cindy's Diner, lunch in a booth at Calhoun St. Soups, Salads & Spirits, or dinner in the window at Pint & Slice, you're sure to fill up on memories.
To Market to Market - On the morning of the first Saturday of winter months, get down to Parkview Field for the Ft. Wayne's Farmers Market. With a little cash, you can grab a homemade treat to share and perhaps something special for her like handcrafted jewelry or even face-painting.
For a successful date, I recommend selecting just a few experiences from the list for each date. That way, you can enjoy the time together and each location you've chosen. Please let us know if you have a favorite date spot we missed!