This post is part of our Three Rivers Festival feature series. Click here to view all Three Rivers Festival posts.

Celebrations would be nothing without a killer parade to kick them off, and lucky for you, Fort Wayne's Three Rivers Festival has had 42 years of practice and is ready to make their 43
rd
parade one to remember! The TRF Parade, presented by Lutheran Health Network, begins at 10 a.m. this Saturday, and it's sure to have something to delight festival-goers of all ages.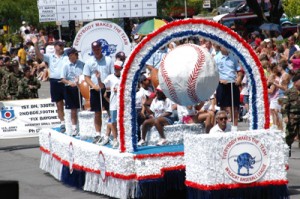 This year's two-hour parade is themed "The Sights and Sounds of Summer," and it features over 130 participants including The Voices of Unity Choir, who will also serve as Grand Marshals! The parade also features floats, balloons, high school marching bands, area mascots, local celebrities and much more. Be sure to get up nice and early to save a spot along the parade route, which starts in the historic West Central Neighborhood and winds along downtown for nearly two miles. If you can't make it out to the parade in person, you can still enjoy the experience by flipping on a live broadcast of the procession on
Indiana's News Center.
And, make sure to stick around after the parade to enjoy the opening weekend of
Three Rivers Festival
!