Painting Fun Spot
, located at Jefferson Pointe, next to Barnes and Noble Bookstore, focuses on making memories while spreading happiness through art. Boasting the largest selection of paintable items nationwide, Painting Fun Spot makes all their plaster items in Fort Wayne and features an array of things to choose from, including decorative pieces and children's items. Plus, you can also paint canvases or pottery that can be glazed and is food safe. With over a thousand items to pick from, customers of all ages are sure to find just the right piece to take home. Painting Fun Spot caters to families, offering kid-sized aprons, step stools and changing tables so that the whole family can join the fun.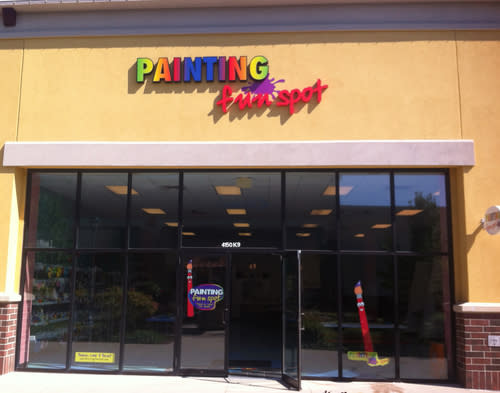 Painting Fun Spot also is a great place for groups, including birthday parties, large groups, office parties and more. With prices ranging from $3.95-$61.00, you can find a piece to fit any price range. Plus, there are no additional fees for supplies and it doesn't matter how long you stay to paint.  It's easy to while away the afternoon at Painting Fun Spot. I discovered that older children and adults can easily spend several hours perfecting their creations.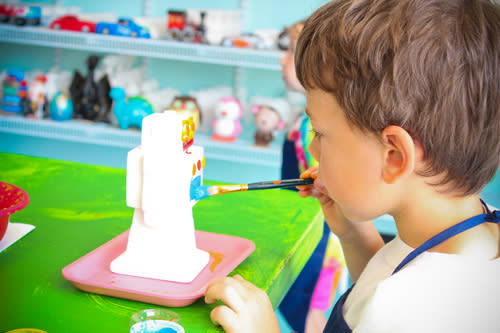 Haven't painted before?  No problem. You pick the piece and the staff at Painting Fun Spot provides all the brushes, paint, glitter and smocks you need. They will even do the clean up for you. Unlike other painting places, you can leave with your piece in ten minutes and don't have to make a return trip to pick it up. This is the biggest advantage to Painting Fun Spot. Because plaster does not require additional time for finishing, your family can take home their pieces the same night. (Choosing a pottery piece that needs fired and glazed requires an additional week.)
Painting Fun Spot is a relaxing and creative experience the whole family will enjoy. After all, who doesn't like experiencing the joy of painting? You aren't just paying for a piece of artwork, you are paying for a unique experience together. For artists and non-artists alike, Painting Fun Spot is a fun way to spend an evening or afternoon.