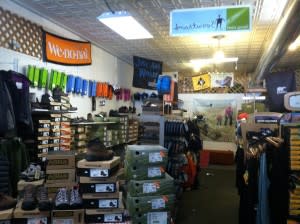 Although rather unassuming, Earth Adventures Unlimited is an outdoorsman's (or woman) dream. The family-run business owned by Rick and Nancy Bodecker since 1991 is located on West Main Street, next to O'Sullivan's bar and carries a variety of camping, recreational gear and outdoor apparel. That means everything from camping stoves to kayaks. If you're looking to pursue an outdoor hobby, chances are they can help get you squared away. They carry a wide variety of brands and products for a small store. (Who knew there was more than one type of sleeping bag?) Special ordering of products is also available. Why go to Dick's when you can get one-on-one attention and support an independent business?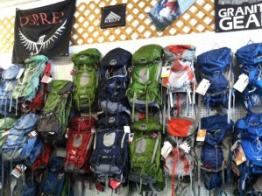 Speaking of attention, Store Manager (and highschool classmate of mine) Bridgette McCue  is friendly and knowledgeable. An outdoorsy type herself, she can help customers find the best product for their needs. She says their niche is competitive pricing and obscure products. Most of their business comes from regulars who keep coming back for the reasonable prices and selection. But they welcome newbies of course.
It's never too late to enjoy the Great Outdoors! Maybe a spring break camping trip is in order? First-time visitors will be surprised to learn they have a padded boulder wall in the basement of the store. Climbers can use the facility for just $1 per day and train for a trek. What a great way to get some exercise when it's too cold to go outside! Speaking of the outdoors, the store also offers trips and classes to the community. For example, an experienced instructor leads groups in a backpacking session. Other past classes include canoeing and cooking outdoors.
Earth Adventures Unlimited is located at 1804 W. Main St. Hours are 10 am to 6 pm Tues.-Fri.  For more information, visit their website.