There is still time left this summer to enjoy an evening of entertainment under the stars at Fort Wayne's own
Foellinger Theatre
. The historic theatre, built in 1949, sits next to the Fort Wayne Children's Zoo, located just north of downtown. The summer concert and movie series, presented by Fort Wayne Parks & Recreation, is a low cost entertainment option for both locals and visitors alike. Performances this summer range from local bands, tribute shows, to national acts -- including Air Supply and Rick Springfield.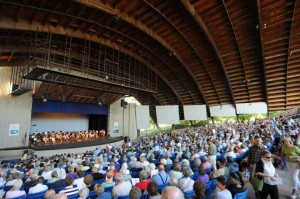 FREE Movies Include: (All shows at 8:30 p.m.)
Tangled Wednesday, August 10
The Sorcerer's Apprentice Friday, August 19
Concerts Include:
Cherish the Ladies, Celtic Music Friday, August 12, Cost: $10
Spike And The Bulldogs Saturday, August 13, Cost: $5
Fort Wayne Children's Choir Sunday, August 14, Cost: FREE
Fort Wayne Area Community Band Tuesday, August 16, Cost: FREE
The Bel Airs Saturday, August 20, Cost: $5
Davy Knowles and Back Door Slam Friday, August 26, Cost: $15
Memories Of The King (Elvis Tribute) Saturday, August 27, Cost: $5
Rick Springfield Sunday, August 28th, Cost: $25 to $50
Zoso! The Ultimate Led Zeppelin Experience With Special Guest Moser Woods Saturday, September 10, Cost: $12
The Lettermen Saturday, September 17, Cost: $15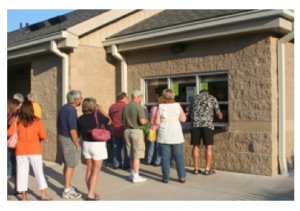 The Foellinger Theatre is located on Sherman Boulevard, just south of 930/Coliseum Blvd, near Goshen Road. The facility, which was built into a grassy hillside, provides a unique entertainment space with open-air seating. The theatre underwent structural improvements in 1976 and now seats about 2,500. In recent years more than 40,000 people have attended events each summer.
Tickets can be purchased online, up until the Monday before each concert. After that, purchase tickets in person from Fort Wayne Parks & Recreation, 705 E. State Blvd. For more information call the box office at 260.427.6715.