Looking for the best place to dine outdoors in downtown Fort Wayne? Well, the best is up for debate.
Our downtown is home to many restaurants offering outdoor dining, which is a good problem to have. When I asked my family and friends where their favorite outdoor dining spots are, I didn't get the same answer twice. Hailing from Chicago, I was impressed with the variety of quality, local dining establishments in Fort Wayne, and even more impressed with the extensive list of outdoor dining options.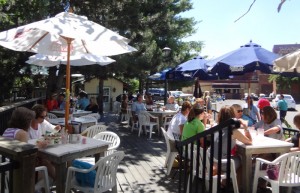 Here are a few:
The Gas House Deck is now open! It's a big deal every year when "The Deck" opens. Nestled on the banks of the St. Mary's River, it provides picturesque views, frosty beverages and a mouthwatering menu. Tables are limited, but there is a bar available to entertain you while you wait. One of my favorite summer activities is hopping on my bike, hitting the Fort Wayne Trails, and ending up at The Deck to relax and meet with friends.
JK O'Donnell's offers an outdoor seating area along the front of its building on Wayne Street. Maybe the prettiest block in downtown Fort Wayne, the stretch in front of JK's provides the perfect backdrop for your summer meals- lunch or dinner. I especially enjoy taking break midday to enjoy the sights and sounds of downtown, while enjoying a quality lunch.
A few years ago, Club Soda added an extensive outdoor dining area- both upstairs and downstairs. Perfect for small intimate gatherings or even larger celebrations, the patio and deck areas provide just enough shade for you to enjoy the warm weather and not worry about the sun. Plus, the upstairs deck is covered with an expansive awning to protect you from the elements, as well. Known for its top-notch menu and extensive martini list, Club Soda now boasts the most outdoor seating available downtown.
A few other places downtown offer minimal, but comfy outdoor seating, including 816 Pint & Slice, Dash In, Oyster Bar, Main Street Bistro and Martini Lounge, Wine Down, O'Reilly's and Henry's, all of which qualify as favorites in my book.
Could there be any that I'm forgetting? What do you recommend?
*This post has been updated in December 2015.