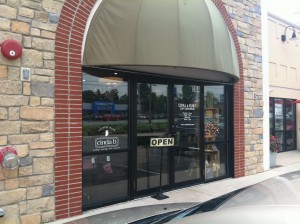 Why head to the mall when you can find a one-of-a-kind gift elsewhere?
Opal & Ruby Gift Emporium
is THE place to find a treasure for that special person in your life. Nestled in a cozy looking strip of shops and eateries off of Illinois Road, the store welcomes locals and visitors alike. Upon entering the store, I was greeted by Kelli, one of the sisters/co-owners, who explained the origin of the store's name. Opal and Ruby, she said, is a nod to her and sister Kristin's birthstones. The store is the product of their creative collaboration. And creative is right. Inside the store you'll find some gems as hand-made jewelry, pillows, picture frames candles, cookies, and bags. A great deal of the products are locally sourced from such vendors as
Keepsake Threads
,
cinda b
and 
Vanilla Bean Unique Cookies and Cupcakes
. They have everything you might want as a gift for men, women and children. And their home goods look like something out of a magazine!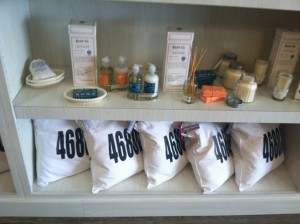 I was most impressed by their selection of bags from cinda b. They carry a variety of patterns and sizes ideal for travel. Kelli told me that they can special order patterns not carried in the store. Their bag sets would be perfect for plane travel because they're lightweight yet durable. In short, this store is a testament to the talent Fort Wayne has to offer. And what better way to support local artists/vendors than by buying some of their work? Sure there are other gift shops in town, but none with this concentration of locally produced gifts. The store is open Monday - Friday 10am - 6pm and Saturday 10am - 2pm. For more information, visit their
website.