Being from Toledo, I'm no stranger to minor league baseball. The Toledo Mud Hens have been a local tradition for generations, and I am well aware of the fun to be had. So, to my delight, when I walked into Parkview Field, the first thing I noticed was how nice the stadium was, immediately followed by the large crowd. It was obvious that people have a great time here.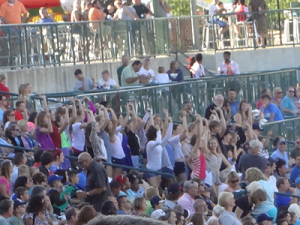 At the TinCaps game there was high energy in the crowd and so many people were smiling, laughing, and having a good time. There was one point in the game when the field sweepers came out, stopped sweeping, and started dancing all together, calling themselves the "Bad Apple Dancers," that was funny to watch. And, there are plenty of options at the stadium for when you get hungry. On the day that I went, concession stands were selling hotdogs, small pops, and popcorn for one dollar. On the other hand, my favorite part was the birthday cake flavored ice cream. You are given more than enough and it certainly satisfies your sweet tooth! A couple other neat things I saw at the game were a rock climbing wall to entertain younger kids and a grassy area that overlooks the field where you can sit and watch a nice game of baseball. Overall I have to admit that while I'm no newbie to the minor league baseball seen, I was very impressed by the stadium and atmosphere in Fort Wayne. I look forward to my next TinCaps game!
See you on Day Four!