Finding a great place to have lunch is no struggle in Downtown Fort Wayne. On my second day in Fort Wayne I went down to The Deck at Don Hall's Gashouse, an outdoor restaurant located downtown right along St. Mary's River. It is a beautiful spot where it is easy for you to sit back and enjoy your admirable surroundings while eating your choice of a sandwich, snack, or salad.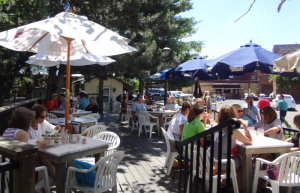 I ordered the Chicago Burger with my choice of three toppings and a side of delicious baked macaroni and cheese, which was honestly the best macaroni I have ever had. The burger was huge and filled with toppings so I definitely did not leave hungry. The food is fairly priced and the friendly staff keeps your glass filled. The area of the deck is also large so I did not feel like I was cramped. Overall my experience at The Deck was relaxing. The view of the river on one side and the view of the city on the other, along with taking a breather in the fresh air, were a couple of my favorite parts about eating here. If you are looking for a calming and beautiful atmosphere for outdoor dining, The Deck is the place to go.  I would definitely recommend this restaurant to anyone.
See you on Day Three!