Yes, I am writing about food again, which is so easy because Fort Wayne has such a variety of choices for where to eat. Even staples like Mexican are done in fantastic and unique ways, which is proven by El Azteca. If you are in the mood for a unique Mexican meal, I would highly suggest El Azteca. Their menu has a nice variety of reasonably priced meals which is always a plus. When I went there for lunch, I tried the mesquite chicken and black bean quesadilla which comes with tomatoes, onions, Chile pablanos, jalapenos and a side salad. It was nice to find a quesadilla meal that differ from just meat and cheese, and the side salad was new to me.  The salad was different because it had a fruity taste coming from the dressing and diced mango all over.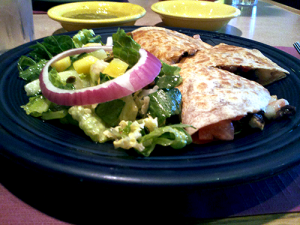 To top it off, the meal came to an end with tasty licorice taffy. Overall the meal was delicious and unexpectedly different. Also, I must add that I was impressed with was the friendly waitress that I had. She was very quick at taking drink orders, keeping glasses filled, making suggestions, and taking care of the bill. The food came out very fast as well. The noise level was low, the food and service was great, and the restaurant was well decorated as a whole. Overall great marks, and I definitely suggest that you try El Azteca, too.
See you on Day Five!