I confess, I never knew where the reference to 'Nurse Ratched' came from. I knew from all of the places it was referenced that it was the name of a tyrannical character who abuses her power and care of patients. 
It was an uncomplimentary term that had floated around for decades. Yes, I could have easily googled it, but never thought to do so. Imagine my surprise when upon researching this blog post, the name popped out at me! Nurse Ratched is the name given to the abusive head nurse of Ken Kesey's novel, One Flew over the Cuckoo's Nest.
The plot revolves around Nurse Ratched's dictatorial ruling of the mental institution where she works. She uses her position as a means to control her patients, often in cruel and inhumane ways -- until a new patient, Randle McMurphy, arrives and defies her rules.
The novel was published in 1962 and made into a popular film in 1975 starring Jack Nicholson. The play by Dale Wasserman is based on the novel and is being presented by First Presbyterian Theater on April 21, 22, 23, 29, 30, May 1, 6, 7, 2016.
Even though One Flew Over the Cuckoo's Nest was written more than 50 years ago, it is still a well-known story. The abuse of power is a theme that resonates in today's world. With a full cast of experienced actors, this is sure to be another high-quality theater experience from this well-established theatrical outlet in our community.
First Presbyterian Theatre, has produced six, sometimes seven, plays each year for decades. The 300-seat theater is comfortable and professional with a full-size stage. The theater is located in First Presbyterian Church at the corner of Wayne & Ewing Streets across from the Allen County Public Library downtown.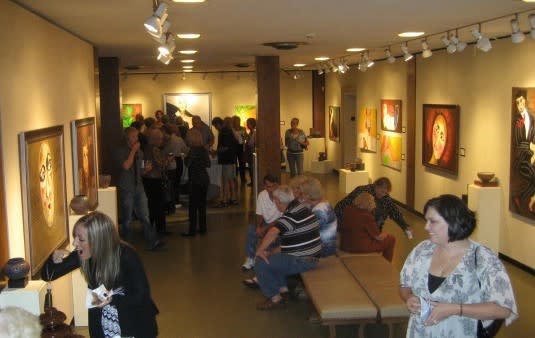 Evening performances begin at 7:30 pm with Sunday matinee at 2 pm. Seating is first-come, first served, doors open 30 minutes before curtain.
Arrive early enough to browse through the church's art gallery. A new collection of exhibits of recycled, repurposed, reimagined art opened in April. Gallery hours are Monday-Friday 9:00am-5:00pm, Sundays 9:30am-1:00pm, and during all theater performances.
 <