Fall is pretty much my favorite time of year. There are many reasons for that, not the least of which is the return of college basketball. I am first and foremost a Purdue Boilermaker, but I went to law school at the University of Dayton, so I have an allegiance to the Flyers too. But college basketball is the one sport I will consistently watch even if I don't really care about who's playing because (a) I want to know as much about as many teams as possible come tournament time and (b) I genuinely enjoy college basketball. While Fort Wayne hosts some great college hoops every year, on Wednesday, December 3 we're being treated to what should be some awesome women's basketball as the Notre Dame Fighting Irish host the Maryland Terrapins in the 2014 ACC/Big Ten Women's Basketball Challenge at the Allen County War Memorial Coliseum.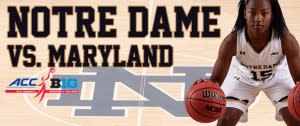 If you haven't followed the college basketball conference shake-ups of the last several years (or if you have and you still aren't sure who plays in which conference), you may be wondering, When did Notre Dame join the Big Ten? Well, it's actually Maryland, in its first year in the conference, representing the Big Ten in this year's Challenge; Notre Dame is repping the ACC for the second season. Notably, these two teams have some significant recent history: after competing against each other in conference last year, they met again in last season's Final Four. Notre Dame won that matchup but lost in the championship game to Connecticut. Not only is this year's Challenge a chance for the Terps to exact a little revenge against the Irish, but it's also an early season Top Ten matchup – Notre Dame is ranked 3
rd
and Maryland 10
th
in the Preseason AP Top 25 poll – and a test for both teams. Come on out for some fantastic women's college basketball on a national stage! Tip-off is at 7:00 p.m. Tickets are only $14 (additional charges may apply). Visit
www.ticketmaster.com
or the Memorial Coliseum box office to purchase tickets.