Nothing says romance like a weekend in the Fort. Why? With so many options for fine dining and art, it's hard not to fall in love again. Maybe it's a special anniversary. Or maybe it's "just because." Either way, there are plenty of ways to celebrate your love in Fort Wayne.Here are a few of my favorites.
Start with a fine meal. Paula's on Main has the best seafood I've had in this town. You can't come wrong with splitting an order of their crabcakes as an appetizer. I recommend the fish tacos for the entree. And be sure to ask to sit in Karen's section. She'll take care of you. Reservations are recommended on the weekend. Baker Street always knocks it out of the park. Their menu is impressive, with a variety of vegetarian and gluten-free options. You'll die for their pretzel bread, too!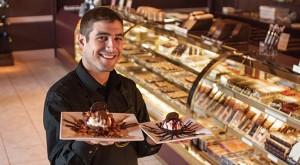 No great meal is complete without dessert! We suggest popping into one of DeBrand's stores to share one of their desserts. I recommend the chocolate lover's cheesecake--a double layer of silky chocolate cheesecake with a chocolate cookie crust, garnished with chocolate curls and dark chocolate. Yum!
Complement your meal with some art. After you've satisfied your palate, it's time to cater to your artistic side. If you and your partner are Broadway junkies, you've come to the right place. You can catch a total of six Broadway productions at our historic Embassy Theatre.
If musicals aren't your thing, don't worry. There is plenty else to do to satisfy your artistic itch. The Fort Wayne Civic Theatre never fails to impress. Presenting a variety of comedies, dramas and Broadway musicals each season, the Civic Theatre showcases outstanding volunteer talent on and off stage.
Any classical music fans out there? The Fort Wayne Philharmonic is a first-class organization. With about 300 performances a year, you're sure to catch one. So go ahead...fall in love with each other all over again as you fall in love with our fair ci