Update: Cookie Cottage has relocated to 620 W. Washington Center Road
You have to see the cookie jars. They line the walls of the shop and are in every shape imaginable – Snoopy on his doghouse, an old-fashioned stage coach, Tweety Bird, small cottages in ceramics, a giant strawberry… it's fun just to look around. You think you've seen them all when another one jumps out at you!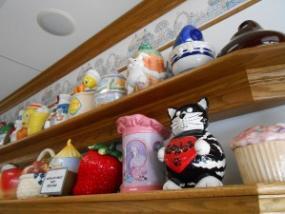 But Cookie Cottage is more than a display place for adorable cookie jars – they also sell cookies. You'll see the big, lit-up glass case filled with trays of baked goods up against the wall with a handsome cottage window. (You can see into the baking area through the window, behind the counter. Ovens and racks of cooling cookies are in constant action there.) And it's the cookies that take the ultimate attention. When I was there on a recent Saturday, the line of customers stretched from the choosing counter to the door. By the time I left, the line stretched outside and folks were propping the door open. Cookies can be purchased individually, or in boxes – you choose the flavor, the staff wraps them in sheets of thin parchment-like plastic. Special gift boxes are also available, as are individualized cookies. (Cookies iced with photos or names need to be ordered in advance.)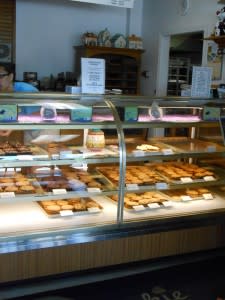 If you've never been to the Cookie Cottage, don't worry - there is a large signboard hanging over the counter that details the different prices of a single cookie, half a dozen, and other amounts of cookies. The trays inside the counter are clearly labeled, so you can easily figure out which is almond crunch and which is oatmeal raisin or butterscotch. A glass cake keeper on the counter, near the cash register, also seemed to have some special treats – but by the time I got there, only crumbs were left. If you want to sit down and enjoy a cookie right away, you can – there's a full counter, café-style, set into the front store window. Pull up a tall-legged chair, buy a container of milk, and enjoy some fresh-baked goodness right away. (A tiny TidyNap napkin dispenser is also on the counter, in case of spills.)
On Saturday, families, grandmothers, retirees - people of all ages, in short - were waiting to purchase the tasty desserts. One dad stood in line while his small children waited on the chairs/stools. This was obviously a treat excursion for all involved, as the dad looked back to make sure the kids saw that the cookies were being boxed up – and asked for a couple more of one child's particular favorite. Everything in the Cookie Cottage is petite and clean. Pretty wooden shelves frame mirrors on each long wall, making the place feel airy and open. Display baskets of cookies are wreathed in chiffon and netting, just to demonstrate the way a gift basket could be decorated.  Kitschy, pristine kitchen towels are lined up on pegs beside the cookie counter and one rustic plaque declares, "A balanced diet is a cookie in each hand!"
Could a cookie shop explain its purpose any better?