I think each one of us has a genre of music we consider formative – that music, those artists, that spoke to us at a time we needed to be spoken to. Whether we were disaffected youth, hopelessly in love with the wrong girl, or just not sure where we wanted our lives to go, someone had already lived through it, come out on the other side, and put it to wax (or cassette, or digital audio…). For those of us of a certain age, that genre was alternative, but more specifically, it was grunge. Yes, I wore flannel. Yes, I had a pair of combat boots. And while grunge fashion died years ago, the music lives on. One of the seminal bands to come out of the Seattle scene, Alice in Chains, will be performing live at the Embassy Theatre in Fort Wayne on Tuesday, May 21 at 7:00 p.m.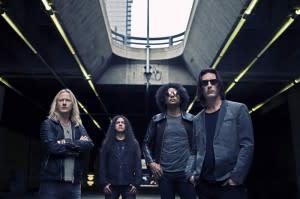 Alice in Chains, like fellow Seattle rockers Nirvana, have seen their fair share of tragedy over the course of their career. Lead singer Layne Staley and original bass player Mike Starr both died after long battles with addiction – Staley in 2002 and Starr in 2011. But the band soldiers on, with original members Jerry Cantrell and Sean Kinney; Starr's replacement since 1993, Mike Inez; and William DuVall, lead singer since 2006. Famous for hits like "Man in the Box," "Them Bones," "Would?," and my favorite, "I Stay Away," they will release a new album,
The Devil Put Dinosaurs Here
, later this month. Two things of note: First, man, Alice in Chains made some great rock 'n' roll songs, and second, it saddens me that the bands of my youth are now considered classic rock. An amazing band like Alice in Chains performing at an intimate venue like the Embassy Theatre? That's a show you can't miss. There are still tickets available at the $45 price level. Additional fees may apply. For more information, check out
www.aliceinchains.com
,
http://www.visitfortwayne.com/event/alice-in-chains
, or
www.ticketmaster.com
.